You may not know, Martin Luther King Jr. Day is also a National Day of Service. This "holiday" to some, is another day to give back to the community for others.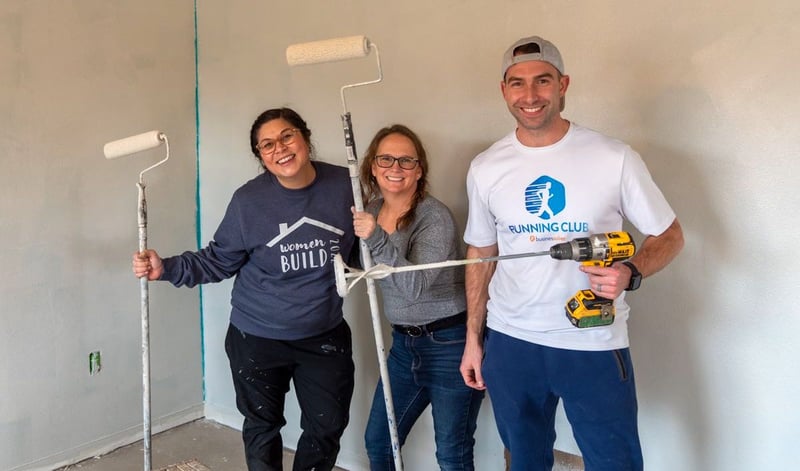 "Life's most persistent and urgent question is, 'What are you doing for others?' "
—Dr. Martin Luther King, Jr.
Giving back is one of our core pillars, guiding our business and culture. That's why we encourage people to volunteer and provide opportunities when possible.
And what do you know? There are so many people who are up for the challenge!
This is especially true for two Businessolver colleagues, Giselle SancenValero and Phonsavanh Sullins. These talented Solvers honored Martin Luther King's legacy together, volunteering with others for Habitat for Humanity in the Greater Des Moines area.
"Habitat services many families from diverse backgrounds in the metro and is committed to building hope and homes in our community," Phonsavanh remarked. "To be able to support families get into affordable housing and build community is so rewarding. I feel like I'm directly impacting my community with my time and talents"
"Affordable housing is hard to come by. Even in a place like Des Moines." Giselle added, "Businessolver made it easy to volunteer, and I appreciate getting to know my coworkers outside of the office"."
The month of January is also recognized as Poverty Awareness Month in the United States.
The estimated poverty rate in Des Moines is 15.3%—higher than the national average of 11.6%, with communities of color being the most affected.
Giselle had this to say: "Habitat's mission is always stated at the beginning of each project, and it makes us feel like we're using our time intentionally. It's like finding our why" (a reference to Simon Sinek, motivational and professional speaker).
Businessolver has partnered with Habitat for Humanity for over 5 years, and has coordinated volunteer efforts for more than ten Habitat projects across the U.S. This demonstrates Businessolver's commitment to diversity, equity, and inclusion by supporting Habitat's vision to create a world where everyone has a decent place to live.
And the story doesn't end here.
There are still more opportunities to give back. Habitat for Humanity currently works in 1,400 local communities all over the U.S. and 70 countries around the world, from Argentina to Zambia.
"I have learned a new skill or how to use a new tool every time I have volunteered—and it's very empowering. The staff and volunteers are so helpful and make sure you feel comfortable on build sites. So, no matter what you do, there is value in what you do—and to me, that's all that matters!" Phonsavanh said.
Giselle agrees, "The project managers make the big task of building a house feel easy to get the work done in manageable tasks. They take the time to guide you if you need help. Along with building a home, I also am building confidence in myself."
Find a local Habitat project here, and get inspired to 'find your why.'
Keep reading to discover more ideas to prioritize DEI and inclusivity in 2023.