Is your workplace empathetic?
For the past four years, we have studied the impact of empathy in the workplace. Our 2019 results illustrate that the need for empathy in the workplace has only increased in importance.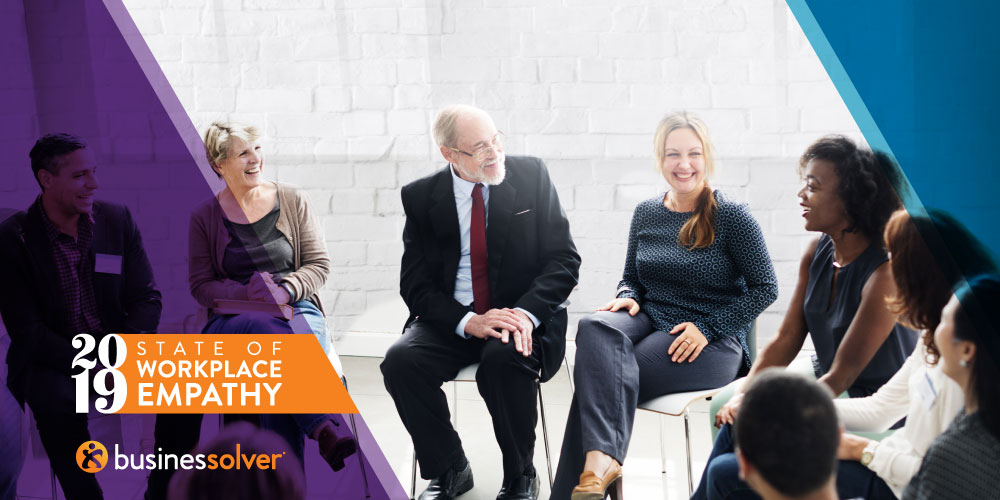 From gender disparity in leadership to rising health care costs to having a record four generations actively working today, it's clear that the American workplace is facing a multitude of pressures. The tight labor market and low unemployment rate present employees with options — and employers with challenges around recruitment and retention. These factors, combined with our "always-on" culture, are presenting new obstacles to our working lives that many industries are not prepared to address.
In this environment, it makes sense that empathy, the ability to understand and experience the feelings of another, would be the difference-maker when fostering a positive workplace culture and keeping employees engaged. Our 2019 State of Workplace Empathy Study — the fourth annual study we've conducted on this issue — confirms that empathy is no longer a "nice-to-have" or a value that can just be demonstrated through a few gestures or programs.
It's impossible to overstate this importance of empathy in the workforce today.
And it seems that leaders are catching on to the value of empathy in the workplace. This year, 72 percent of CEOs said the state of workplace empathy needs to change, a 15-point increase over the last two years. Yet, despite this positive trend, what we call the "Empathy Gap" (the difference between employees and employers in their perception of empathy in the workplace) is widening. CEOs believe things are getting better, but employees aren't so sure: 92 percent of CEOs say their organization is empathetic, while 72 percent of employees say they work for an empathetic employer, down 6 percent from previous years.
Our 2019 results revealed several notable shifts tied to the tension between leadership and employees that are worth exploring. Here are a few key takeaways from this year's State of Workplace Empathy Study:
One size does not fit all.
In 2019, employees said that different behaviors demonstrated empathy from different job roles in the workplace. Employees believe that their fellow co-workers show empathy by helping one another, whether it's going the extra mile to help a colleague meet a deadline or making time to talk about challenges at work. HR professionals can demonstrate empathy by respecting employees' needs to take time off for personal needs and understanding the necessity for flexible working hours. And yet from CEOs, employees want to see a personal connection: they view leaders as empathetic when they ask about an employees' family or their interests outside of work, and when they recognize an employee's professional milestones.
Employers play a key role in well-being.
We've seen wellness programs explode in recent years, but are employees really any healthier? This year, 90 percent of employees said companies should do more to address overall well-being in their workforce. To get there, organizations need to emphasize not just physical health but mental and financial well-being too. At the core of it, employees want their employer to empathize with their everyday working lives and help prevent people from being overwhelmed on the job.
Support for mental health is critical for empathy.
A staggering 8 in 10 employees, HR professionals, and CEOs all believe that organizations see someone with a mental health issue as a burden. This stigma must change so that people throughout an organization can seek meaningful changes to improve their day-to-day working lives, and as a result, their overall well-being. It's estimated that 40 million Americans are coping with a form of anxiety, and yet only a third of employees who experienced a mental health issue last year reached out for help at work.
Employee benefits related to family are top of mind.
More than 90 percent of all audiences surveyed this year said that family-centric benefits are empathetic. Whether helping older employees care for elderly family members or supporting younger employees with child care, family-centric benefits such as day care and flexible schedules improve the quality of life for the diverse generations in our workforce today.
Empathy helps overcome disengagement and loneliness.
Nearly a quarter of respondents (24 percent) in 2019 said there isn't a true sense of belonging in their workplace. Feelings of disengagement and not belonging can lead to loneliness and depression, so it's vital for employers to foster an inclusive environment. D&I initiatives can address these issues by demonstrating empathy to all employees and embracing the qualities of everyone in the workforce. A diverse leadership team is also an important factor in establishing an empathetic environment, as we've seen year-over-year according to employees, HR pros, and CEOs.
As expectations around workplace empathy evolve, one constant is the value of empathy in promoting employee retention and engagement. This year, as in previous years, employees overwhelmingly respond that they're more likely to stay with an empathetic employer (93 percent) and would even work longer hours to stay with one (78 percent).
By leading on empathy, employers can set themselves apart and have a more productive, engaged workforce — how will your organization respond?