Benefits technology and communication strategies enhance the annual enrollment experience and pave the way for your employees to engage with their benefits year-round.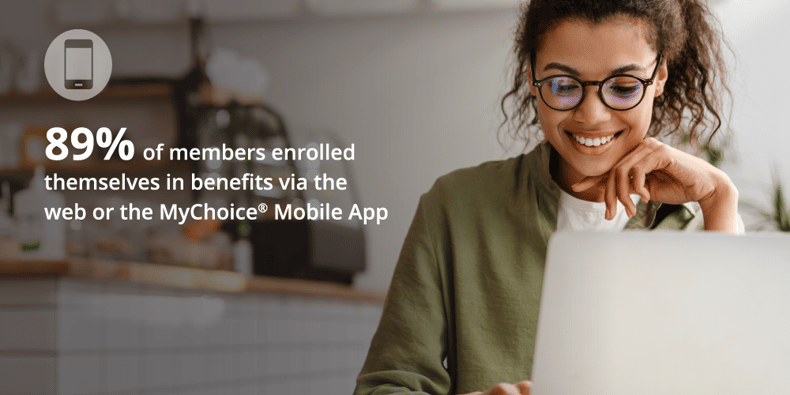 We've done it! Another annual enrollment is in the books. And now that it's over, we'd like to reflect on what we learned and the successes we had during our "super bowl."
Members embraced self-service wholeheartedly.
The days of pen-and-paper enrollments are all but gone. And the sun is setting on phone enrollments as well. While it's still an option to enroll over the phone with one of our member advocates, members are choosing more and more to enroll themselves. Our technology and decision-support tools make it the easy and obvious choice to select benefits.
This year, 89% of members enrolled themselves in benefits via the web or the MyChoice® Mobile App.
And that's for a good reason. They can enroll on their own time and at their own pace, a benefit for everyone, especially those who work shifts that make it challenging to call during a defined set of hours. Beyond saving time, it also acquaints members with Benefitsolver®, helping them better understand their benefits and the technology available to support them throughout their year-round benefits journey.
People let Sofia™ find the answer.
One reason members are leaning into self-service is that they're not really doing it alone. Sofia, our AI-powered virtual personal benefits assistant, is there alongside them to answer questions at any hour of the day. But Sofia owns chats during banker's hours as well. While chat volume increased 10% this year, she stepped up with ease.
Sofia had a same-day resolution rate of 91% for her total chat volume this annual enrollment, handling 34% of her chats at night or on the weekends.
Between her ability to resolve member questions in the same day, and her multi-tasking skills (no one waits to talk to Sofia), she saved members more thousands of hours, allowing them to get back to their day.
Timely communications, paired with instant verification, made everything easier.
To encourage members to thoughtfully enroll in coverage this annual enrollment, we sent more than 12 million emails, with an average 43% open rate—quite the feat!
We also sent more than 400,000 text message reminders to members. From annual enrollment opening day texts to benefit confirmation emails, we kept members in the know about their benefits, in the way that they prefer most. But our technology doesn't stop with automated, personalized outreach.
Our instant verification technology assisted in the automatic close of 53% of all dependent verification transactions during this annual enrollment.
This verification feature quickens the approval and confirmation process. Getting dependents on to the plan may be one of the most stressful parts for an employee enrolling in benefits, and automated processes such as this have real impact to an employee's everyday needs.
Use a successful annual enrollment to energize your 2023 strategy.
Annual enrollment is a pivotal moment in time for your members, but it's not the finish line. Now that it's over, it's time to use your successful AE as a jumping-off point to drive a better benefits experience year-round for your employees. Since they've recently gone through their enrollment, momentum and familiarity are on your side. 
Capitalizing on this moment to activate their benefits choices is essential, and it might not be as complex as you think. Start with purposefully engaging your employees, rather than sending an email simply for the sake of doing so.
Here are a few ideas:
Since it's January and New Year's resolutions are fresh, it might be a good time to send out a reminder about your employee assistance program (EAP) or wellness program in hopes of helping your employees achieve their resolutions around health or wellness while these topics are already top of mind.

Or take April: Along with showers comes tax season, making it a great time to communicate with your employees about using a 401(k) or another retirement plan to save on taxes now and protect their financial future. Consumer-accounts and supplementary insurance are other timely reminders to boost employees' financial wellness.

And come September, with schools starting back up around the country, you can remind your employees about benefits and program offerings related to education and professional development. Whether it's your employee going to school, or their children, you can remind them about programs like before and aftercare resources for working parents with younger children, tuition reimbursement or assistance, student loan repayment services, and much more.
So, in 2023, use the momentum from your annual enrollment as a jumping-off point for a 12-month engagement strategy. With some creativity and a plan, you can drive better utilization of your benefits while supporting your employees on their journey to overall health.
New year, new engagement strategy! See what's possible with benefits data inside this guide and start your year off right.