The first Friday of March is national Employee Appreciation Day, which is often celebrated with offerings such as catered lunches, platters of cookies or brownies, perhaps a balloon in the corner – an hour-long break in the day.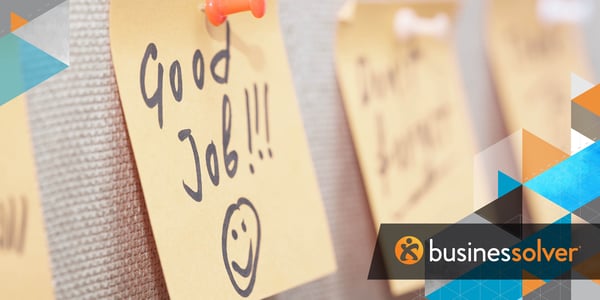 Despite these annual efforts, employees may still feel underappreciated or uninspired at their job. This dispassionate attitude about work can cost you more than a plate of brownies or a stray balloon – consider almost $600 billion in lost productivity according to Gallup estimates.
Here are three solutions you can implement now to keep your employees happy, which also means keeping your bottom line moving up.
Positive feedback – get out of our own head. Many times, when employees impress us we say good job in our heads and not out loud. Studies have shown that employees don't necessarily want free food and happy hours – they want to feel heard, their talents and efforts acknowledged and appreciated. Never underestimate the power of saying a genuine, "good job" when one of your employees does something right. A poll by Tjinsite found that more than 35% of the employees consider lack of recognition of their work as the biggest hindrance to their productivity. It doesn't have to be huge, but everyone works hard at their jobs and sometimes they hardly hear anything positive throughout their day.
Don't fake it till you make it. Be genuine in your approach to feedback, especially positive feedback. A haphazard, "well done" in passing, with no real context or direct link to work isn't helpful to your employees, or your credibility for that matter. With two thirds of executives stating they have an issue with empathy, this can be a major factor in a communication breakdown with your employees. Think about how your employees work – don't assume something that looks effortless isn't taking a lot of time and energy. How do you go about this? Ask. Listen. Check in. These three pillars of empathy can help you connect with your employees and help them feel appreciated and supported in their work.
Flexible is feasible. Everyone has heard the age-old saying, time is money. Don't take time for granted – 95% of employees believe that flexible work hours and location are some of the best ways for employers to show appreciation for their lives, as it illustrates the employers' ability to understand that there is life outside of work.
There should be a Goldilocks approach to your strategy - one size never fits all. If you're a data geek, start tracking the small changes in your approach to employee happiness and compare productivity numbers from the previous year/month. For example, one study by Harvard Medical School found that a group of fundraisers who were shown gratitude and praise raised 50% more money than the group who didn't. Run some tests and figure out what works for your organization and your employees.
Start using training initiatives to help encourage everyone in your organization show appreciation and support. Be creative — listen, learn, and be real – these are the prescriptions for curing the blues in your workforce and first steps to creating a more positive environment.