"Believe you can and you're halfway there."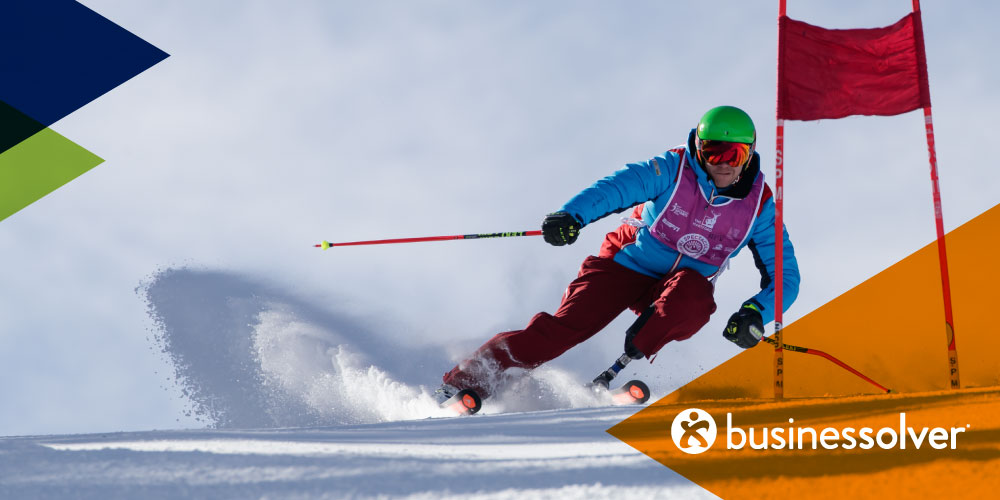 That's what Theodore Roosevelt, who knew a thing or two about the subject, said about dealing with adversity. A sickly child who was not expected to survive, he went on to become president of the United States.
Today, 48.9 million Americans have a disability.1 Many face significant obstacles to healthy living and employment. But it doesn't have to be that way. As a leading U.S. provider of Group Disability insurance, The Hartford is committed to making a difference for people with disabilities. We believe that people want to lead active, productive and independent lives, and believe that the power of ability and the human spirit can overcome adversity.
Underwriting Human Achievement
Everyday, we witness the positive impact sports can have on people after an illness or injury. Competing, becoming stronger and more skilled while participating in the sports they love is a life- changing experience, and an inspiration to the rest of us.
That's why we've made it our mission to connect athletes who have the will to prevail over disabilities with the resources they need to pursue their passion.
A 25-Year Commitment
The Hartford has a long history of supporting people with disabilities. We've been honored to support the Paralympic movement in the U.S. for more than two decades. What began as an effort to assist elite athletes with disabilities eventually led us to become a Founding Partner of the U.S. Paralympics, a division of the U.S. Olympic Committee, in 2003.
We are especially proud to support Team Hartford, a group of elite U.S. Paralympians whose stories of determination and success help us shine a light on the possibilities of the human spirit.
Megan Blunk was paralyzed from the waist down in a motorcycle accident, but went on to become a U.S. Paralympic gold medalist in wheelchair basketball.
Hailey Danz hasn't let osteosarcoma (and a resulting amputation) interfere with her love of sports. She won a silver medal in the PT2 classification for paratriathlon in 2016.
Keith Gabel, who lost his left foot because of an industrial accident, is a two-time U.S. Paralympic medalist in snowboard cross.
Oksana Masters, a double amputee, has won two gold, three silver and three bronze medals while competing in the biathlon, cross country skiing and road cycling.
Dana Mathewson, who contracted a rare neurological disease at age 10, competes in wheelchair tennis and is currently training for Paralympic Games Tokyo 2020.
Matt Scott, who was diagnosed with spina bifida at birth, is a four time U.S. Paralympian who has won both a gold and a bronze medal in wheelchair basketball.
Mike Shea, who lost a leg in a waterskiing accident, has become one of the world's top parasnowboarders, winning a silver medal at the Paralympic Winter Games Sochi 2014.
Mallory Weggemann lost all motion from her abdomen down as the result of an epidural injection, but her love of swimming was unchanged. The two-t
ime U.S. Paralympian has won a gold and bronze medal.
Jamie Whitmore was told she would never walk or ride a bike after an operation for a rare form of cancer, but she returned to compete as a paracyclist and won both a gold medal and a silver medal at the Paralympic Games Rio 2016.
Inspiring and Educating
Not everyone wants to be an elite athlete, but sports can help people of all ages and with all kinds of abilities live more active and fulfilling lives. As the title sponsor of The Hartford Ski Spectacular, one of the nation's largest winter sports festivals for people with disabilities, we help introduce people with different abilities to sports. This week-long event includes learn to ski and snowboard lessons, a race camp, Nordic skiing, free clinics in a variety of winter sports as well as PSIA National Adaptive Academy for instructors.
Broadening our impact
Working in partnership with Disabled Sports USA, we have extended our outreach to communities across the country. The Hartford's Ability Equipped programSM provides grants and adaptive sports equipment such as sports wheelchairs, hockey sleds, kayaks, mono skis and hand cycles to 20 local DSUSA chapters.
Believing in what's possible, despite injury and loss, is an accomplishment all by itself. At The Hartford, we are pleased to help people by providing the right team, technology and support they need. Because sometimes it's about much more than the insurance policy. It's about walking the walk and doing what's right.
To learn more about our programs, visit www.thehartford.com/about-us/ability-equipped.
Through our Pinnacle Partner program, Businessolver works alongside leading core and voluntary carriers to deliver an enriched employee experience and streamlined administrative processes. The Hartford is a proud member of the program, delivering delight to our clients and, most importantly, their employees. Find out more about the Pinnacle Partner program here.

About The Hartford
The Hartford® is The Hartford Financial Services Group, Inc. and its subsidiaries, including underwriting companies Hartford Life and Accident Insurance Company and Hartford Fire Insurance Company. Home Office is Hartford, CT. © 2020 The Hartford
7714 NS 01/20
1 National Service Inclusion Project, http://www.serviceandinclusion.org/index.php?page=basic, viewed on 12/27/19.