Closing out Women's history month, Businessolver's Giselle SancenValero speaks on her experience in tech.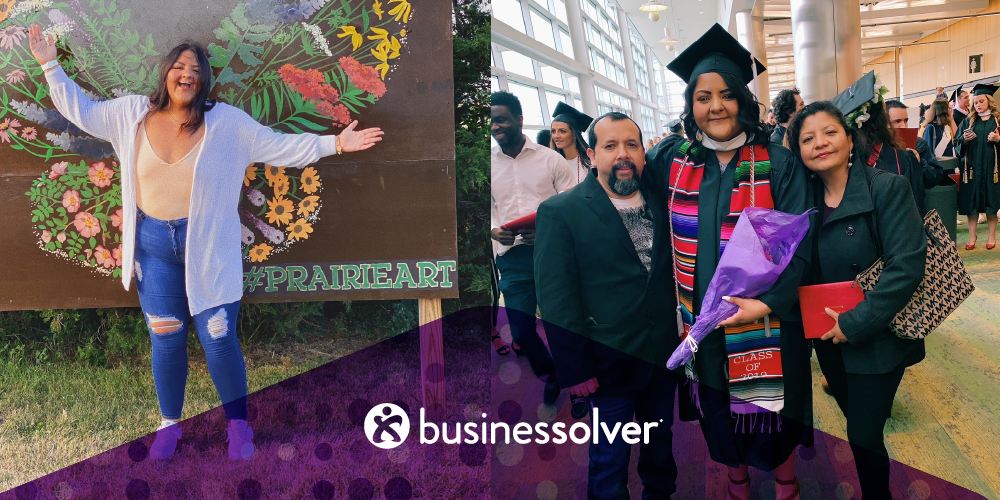 Give us a little bit of background on your career in benefits and technology. 
 I Joined Businessolver right out of college and have been here ever since. I never saw myself working in tech, but I did know that I wanted to work somewhere I felt seen and encouraged to be my authentic self.
I'm happy to say Businessolver has allowed me to do both and so much more. I've had the opportunity to be a part of many teams throughout the last three years and in every role have had the chance to work with amazing individuals who have taught me to be a continuous seeker and never stop asking questions. I look forward to many more opportunities in years to come!
 You are very involved in our DEI efforts. From your perspective, what are some key steps organizations can take to putting DEI front and center?   
Diversity, equity, and inclusion are some of my biggest passions in both my personal and professional life. This stems from growing up and often feeling like I didn't belong or being told my opinions didn't matter if they differed from the majority.
In my perspective, organizations should feel the growing pressure to put DEI front and center as it reinforces a culture of safety while encouraging authenticity and learning from the experiences of others. I know DEI conversations can feel uncomfortable, but learning is uncomfortable. They don't call them growing pains for nothing!
I believe making DEI education the standard is a way to show your employees you're taking actionable steps towards an inclusive culture. Representation matters: organizations need to be intentional in every step of their recruitment process. DEI conversations are beneficial when the people who have a spot at the table truly represent every part of our community. 
Being a woman of color in technology, specifically from the Latinx/Hispanic community, do you think company culture in the technology sector specifically has evolved to be more inclusive? Why/why not?   
I think company culture in the technology sector is growing to be more inclusive because of the work being done by people who have experienced the disadvantages BIPOC people encounter when trying to enter this space. The conversations we are having, the pressure we are putting on our leaders to find talent that is diverse, and our willingness to continually learn from each other are what creates space for more women and BIPOC in tech.
Entering this sector, I felt the need to out-work and out-perform my colleagues to be similarly recognized and validated for my work. That amount of pressure is difficult on one's mental health and doesn't contribute to a team mentality. I have to constantly remind myself I am in a safe environment and my voice is heard and often spotlighted by my team, who call themselves allies and work hard every day to prove it in the work they do.   
What advice would you give to your younger self?   
This is something I think about a lot.
Throughout the last three years I've dedicated my time to healing my inner child. Growing up I was constantly reminded of the adversity my parents faced in fleeing our home country and relocating here, in central Iowa. I remember arguing with my mom, questioning why we didn't relocate to California, Arizona, or Texas. Somewhere where it wasn't 75°F and sunny on Monday and then 20°F and snowing on Wednesday.
Mostly I remember growing up and not seeing people who looked like me in roles and positions that I aspired to be in when I grew up. I spent a lot of time comparing myself and my life to that of my peers and that always ended in disappointment.
I wish I could tell my younger self I did it, our hard work paid off and now I spend my days living my best authentic life with friends and family I adore. I've now made it my mission to show up for myself and my community daily in hopes of being the adult I needed growing up to someone who needs it now.   
What is your favorite weekend activity? 
My favorite weekend activity is supporting local. What that means to me is putting my time, energy, and money back into the community I live in!
Whether it's a Saturday yoga class at Good Vibes in Des Moines or lunch at Lucky Lotus, I am my happiest when I am doing my part in supporting the people around me and taking time to be grateful.
Remember to take time for yourself and make sure your cup is full!
---
Watch our webinar Where Have All the Women Gone? to dive deeper in recruiting and retaining female talent.