"The Crown", "Grace and Frankie", "Orange is the New Black"… after a long day at the office, I enjoy opening my Netflix app to tune into my favorite shows for an hour.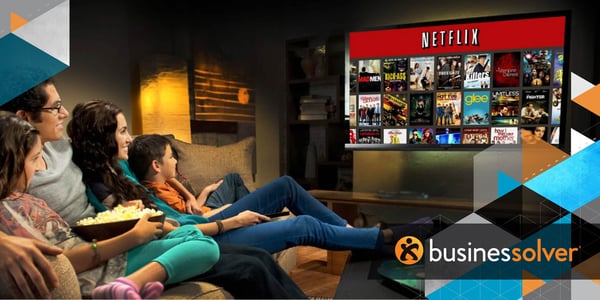 But with so many options, I often find myself sitting and staring at the screen, struggling to make a decision on what to watch. I'm sure you can relate… in fact, it turns out I'm not alone at all.
A 2016 study found that the average Netflix user spends 18 minutes every day deciding what they want to stream on Netflix. 18 minutes?! I'd like to think that I don't take that long, but in reality, I spend a lot of time determining what I want to watch.
Now clearly you are not interested in my Netflix habits, but the statistic brings about an interesting point. On average, your employees are spending 18 minutes picking out a Netflix show, but they are only spending 17 minutes electing their benefits during open enrollment! Yes, you read that right. According to our user experience team who researches and observes employee's enrollment experience, the average Benefitsolver® user spends 17 minutes going through their benefits enrollment.
Employees Don't Want To Shop For Benefits
What does the data tell us? Employees do NOT want to shop for benefits. Even though we are a consumer-driven society that clearly cares about the benefits package being provided to us, we don't want to take too much time electing or managing that benefits package.
That means we need to provide your employees with the tools they need to make educated and efficient benefits decisions, and our decision support tool, the MyChoiceSM Recommendation Engine, is your solution.
Why the MyChoice Recommendation Engine?
It's built into Benefitsolver. The employee does not have to leave the system which not only adds time to the enrollment but creates a disjointed experience.

We provide a holistic recommendation. While finances are a key factor in determining the right benefits, it's not the only thing that matters. We built our recommendation engine to look at the employee's health, finances and risk tolerance to encourage better benefits decisions.

It's flexible! Your employees are provided the recommended coverages based on their unique needs, but they still have the ability to customize as they see fit.
We recently rolled out new enhancements to our MyChoice Recommendation Engine that will make it even better! The latest updates focused heavily on user experience with a new interface and a plethora of enrollment tools aimed at helping users make sound decisions as they determine the best benefits for their needs.
This included enhancing the Recommended Bundle page so employees can not only view but also make changes to their recommended benefits package on one page, increasing efficiency while educating employees in their decision process.
So tonight, when you turn on Netflix (or any other streaming service for that matter), think about the benefits options you are providing your employees. How are you helping them navigate through the choices? What tools are available to guide them to better benefit decisions? Learn more about how we combat this with our latest whitepaper.