Vision 2022 equips attendees with data, insights, and motivation to seize the day and make their mark.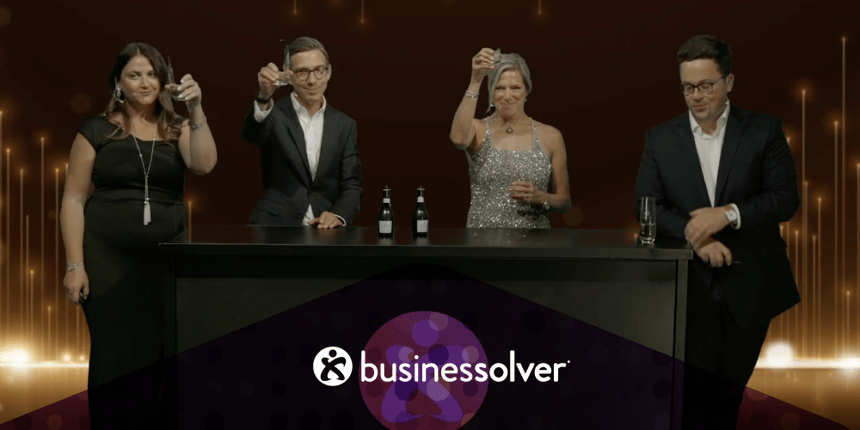 Every year, our clients, partners, and HR leaders gather for Businessolver's Vision conference to gain inspiration and insight for the year ahead—and the kickoff to this year's Vision did not disappoint.
Following the theme of Make Your Mark, which refers to the celebratory moment when an archer's arrow hits the target, Vision is already hitting the bullseye—and we're just getting started.
Our day one keynotes and panel sessions gave our audience key data, insight, and actionable takeaways to help their HR/benefits teams, executive leaders, and employees navigate the Great Resignation and refocus their attention on what truly matters: Culture.  
Panel sessions offer data, stories, and strategies to expand empathy, manage mental health, and drive diversity.
Our first panel of the day featured Jamil Zaki of Stanford University, Tyler Bradshaw of Metlife, and Nina McQueen of LinkedIn who discussed how to infuse empathy into benefits conversations. Jamil emphasized the value of organizations not expressing empathy through one grand gesture but rather focusing on the little everyday habits that matter the most. Tyler closed the session by advising attendees to start with emotion when building deeper relationships.
The next panel tackled the often-stigmatized topic of mental health with Nicole Hannes of Philips North America, LLC, Jan Bruce of MeQuilibrium, and Matthew Brown of the Hartford Group. The panelists discussed topics ranging from burnout induced by the stressors of the pandemic to how to build resilience to increase morale throughout an organization. Jan concluded the session with an interesting takeaway, "If people don't feel satisfied and good at work today—it takes over their whole life. Employers must give their people the skills to practice self-care and be adaptive."
Our third and final panel session of the day brought on panelists Nicole Iarrobino of Allstate, Tim Thomason of VF Corporation, and Jaime Brown of Holistic Index to dive deep into how organizations can build an inclusive culture by focusing on diversity, equity, and inclusion (DEI) initiatives. This popular session highlighted the importance of employer action surrounding DEI initiatives, not merely having programs that talk about changing the narrative. Tim drove home a notable point that each person's contribution to further an inclusive organization is that company's narrative.
Keynote speakers inspire Vision attendees toward cultures that are 'unstoppable,' 'intentional,' and 'motivational.'
The day started with a powerful keynote from Ginger Hardage, the former senior vice president of culture and communications at Southwest Airlines. Ginger focused her remarks on helping Vision attendees build what she calls an "unstoppable" culture—by rebuking the four lies about culture, most notably that culture can't be changed. On the contrary, Ginger said, every organizational culture can be transformed into an unstoppable; however, she cautioned that, "Culture change and timeline is unique to each organization, but a long-term view and communication are key to leading it and your people through it. It will always take longer than leaders have patience for."
 Our next keynote, "Refining Pre-Pandemic Culture for a Post-Pandemic Workforce," was led by Businessolver CEO Jon Shanahan and featured fresh data highlights from our 2022 State of Workplace Empathy Study. The study, now in its seventh year, helped Jon offer historical context for how organizational culture shifts need to be part of an "intentional strategy" focused on responsiveness to employee needs and priorities.
In particular, he shared his personal leadership journey in supporting Businessolver's transition from its brick-and-mortar setup to our Workspace Anywhere model. That model, and the culture that upholds it, has been successful for us "from leaders being stewards of culture," Jon said. "When you do it right, it gets down to teams supporting each other, which is the basis of empathy."
The day ended on a high note—literally—with the incredibly talented pianist and motivational speaker, Jade Simmons, who captivated attendees with live music paired with stories of inspiration. In her part-keynote-part-concert address, Jade encouraged Vision attendees to help their organizations succeed, not by filling roles or quotas but by building "motivational" teams that connect people to their purpose. "No one wants to be brought into a room to fill a quota," Jade said. "They want to be brought into a room because someone can't imagine the room without them in it."
The envelope, please... And the 2022 Solvies go to…
With that, Vision day one concluded with a celebration of people we can't imagine our room without—our valued clients. In the second annual Solvies, we honored HR/benefits professionals in our client community who embody our Businessolver value pillars—Perform, Engage, Innovate, and Give Back.
We uplift these individuals who PERFORM at the top of their game:
Emily Bumactao, BIC—Senior Manager, Total Rewards

Kristen Bentley, Momentive—Benefits Leader, Americas

Claudine McCann, Golden Entertainment, Inc.—Director, Benefits
These clients ENGAGE with heart and soul:
Doreen Hull, Midwest Public Risk—Director, Client Benefits

Pearl Hahm, Kuehne + Nagel—Senior Manager, Benefits + Wellbeing

Chris Liskiewitz, Ace Hardware—Director, Compensation, Benefits & HRIS
We honor these clients who INNOVATE to benefit others:
Alex Cleary, Engineered Floors—Senior Manager, HR

Crystal Ruocchio, Cadence Design Systems—Senior Director, Global Benefits

Jennifer Regala, Snyopsys—Senior Benefits Analyst
And we celebrate these individuals who GIVE BACK in attitude and actions:
Dawn Brazwell, Escambia County Sheriff's Office—Manager, HR

Ron LeBlanc, Envision Healthcare—Senior Manager, Benefits

James Salmond, Papa Johns—Director, Benefits
In addition, we gave the "Make Your Mark" Solvies to our clients that exemplify our Vision theme and are hitting the bullseye in 2022:
Cecelia de Castro, Hasbro—Supervisor, Health & Welfare Benefits

Jennifer Del Monte, Cognizant Technology Solutions—Senior Director, Benefits and Wellbeing

Patricia Calabrese, BASF—Manager, Employee Benefits Admin
Also, the Solvies "Team Awards" were given to clients that had multiple employees recognized in each category, in recognition to their entire team for their overall hard work and dedication:
Intel

Northside Hospital

Brown Forman
Finally, we gave some tech-forward Solvies as well (we are a technology company after all!). The Tech with Heart Award to these clients who used and engaged most in Heart2Heart:
Zoua Vang, TDS—Senior Benefits Analyst

Monica Bartenhagen, PFG—Senior Benefit Administration Analyst

Carolyn Reyes, Verisign—Senior Manager, Benefits

David Esparza, Meruelo Group—HRIS Analyst

Karen Greco, PPI Benefits—Vice President, Marketing & Innovation
The Mobilizer Award to clients with the most MyChoice Mobile App downloads:
Edelman Financial Engines—56.4%

NortonLifeLock—45.82%

Medtronic—45.73%
And the Product Webinar MVP Awards, for clients that attended the most product webinars over the last year:
Lordes Estefan, SelectSource One—Vice President, Implementation

Monica Greep, SelectSource One—Implementation QA Specialist

Sherri Collier, Waste Pro USA, Inc.—Corporate Benefits Specialist
You can still Make Your Mark at Vision 2022.
With day one of Vision 2022 wrapped up, we're excited for another amazing day of learning, networking, and insights to come. Today's day two Vision agenda starts off strong with an invigorating 30-minute fitness class with Businessolver's own wellness director Tracey Orman, followed by opening remarks featuring a coffee/tea tasting led by a noted barista.
 After cardio and caffeine, Vision attendees will explore all things voluntary benefits with our Pinnacle Partners, who are leading breakout blocks focusing on forward-leaning trends and strategies in voluntary benefits and point solutions.
 If you missed day one of Vision 2022, it's not too late to join us and Make Your Mark for day two! Register for Vision 2022 here.