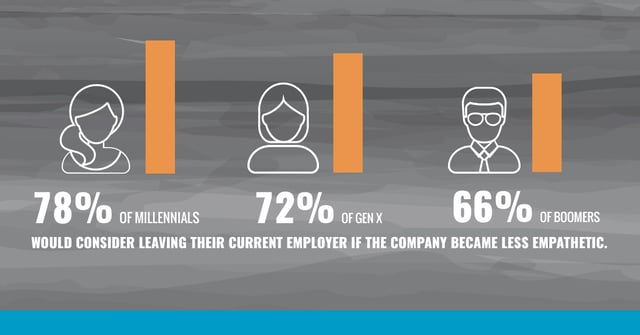 We can't sugarcoat it: American workplaces severely lack empathy – even though a culture of empathy improves employee retention and productivity. That's why we couldn't think of a better place than the famous City of Brotherly Love to add a spark to the empathy revolution with data from the 2017 Businessolver Workplace Empathy Monitor. Released last week at the second stop on our Vision 20/17 Tour in Philadelphia, our second annual empathy study reveals that only 49 percent of U.S. employees rate organizations as empathetic.
However, the business case for empathy writes itself: 77 percent of employees say they'd work longer hours for an empathetic employer, and 60 percent say they would take a lower salary from an empathetic employer. Empathy is particularly critical to Millennials, with nearly 80 percent saying they would leave if their current employer became less empathetic (compared to 66 percent of Boomers).
"Empathy is a guiding principle for Businessolver. We're committed to continuing the conversation about why it's critical in the workplace, and uncovering solutions that can help organizations make it a part of their culture," said our president and CEO Jon Shanahan.
Our research indicates that to foster an empathetic culture, employers can use four main levers:
1. Recruitment. Although empathy is a learned behavior, 58 percent of survey respondents believe it also depends on hiring the right people.
2. Education. It's critical to train employees and managers on what empathy is and the behaviors that demonstrate it. For example, the Workplace Empathy Monitor found the top behaviors that demonstrate empathy include treating everyone with respect, exhibiting caring behaviors, and making time to talk one-on-one.
3. Expectation. Ninety percent of those surveyed agree that assessing empathetic behaviors should be part of employee performance reviews.
4. Employee benefits. Leaders can drive the empathy evolution by understanding what employees value in terms of benefits and workplace "perks." Ninety-five percent of employees want an employer who cares about their health – physical and mental – and empowers them with flexibility – both work location and schedule. Ironically, "soft benefits" and work perks, like happy hours, free food, pet adoption, and spa services don't hit the mark for most employees, even though many CEOs think those are what employees want.
"The Workplace Empathy Monitor provides answers on how to unlock the potential of today's workforce. But knowing is not enough," Jon said. "It's up to all of us to put effective solutions into action to create a more engaging, productive, empathetic workplace."
Find the full 2017 Businessolver Workplace Empathy Monitor online and join the conversation on social media with the hashtag #EmpathyAtWork.