Walk around Businessolver's offices today and you may run into a monster, witch, or even one of your favorite TV characters.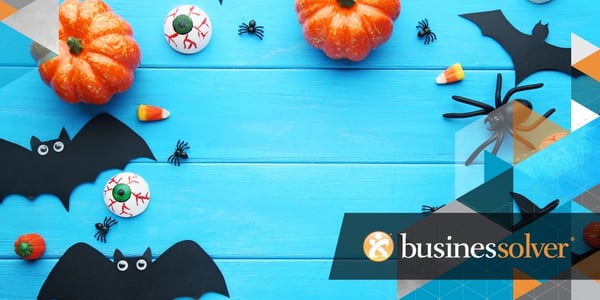 We encourage employees to get in the Halloween spirit each year by inviting them to wear a costume to work – we even hold a costume contest!
In addition to being festive, our Halloween celebration provides a much-needed break from our – and your – most stressful time of year. During Annual Enrollment season, we love helping our clients achieve their goals and successfully support their employees. Yet we also know all too well that the demands of the season can bring on extra stress.
If the strain of Annual Enrollment has you spooked, here are a few do's and don'ts I follow to decompress and ensure the season doesn't get the best of me – I hope they help you stay a little less stressed this season, too!
Don't go it alone
As SVP of Employee Engagement, my team and I oversee enrollment for all of Businessolver, and I can honestly say we couldn't do it without the support of employees across the organization.
I've learned that you can't be afraid to ask for help – even outside of your immediate team. Success will not happen by saying yes to every challenge thrown your way, but by building up a support system of colleagues that understands your mission and the role they need to play. At Businessolver, I've seen the most progress when we all work together.
Do find time for fun
Businessolver's annual Halloween celebration is a great example of how to infuse the workplace with a little fun and help everyone take time to relax. Scheduling breaks – even short ones – allow your mind and body to rest; trust me, it's essential. A little inspiration:
Leverage employees' talents. Have a colleague who also happens to be a yogi? Ask if they would consider leading a short yoga session in the office.
Hold everyone accountable. Consider assigning each team member a week when they're responsible for planning an activity.
Keep it simple. Even small changes to the regular routine, such as holding walking meetings or doing a few laps around the office with coworkers, can provide much needed relief and keep stress at bay.
Do keep communicating
Communicating with employees leading up to Annual Enrollment is an important part of any benefits strategy. But once enrollment begins, the communication shouldn't stop. Continue to provide employees with critical enrollment information, such as when it starts and ends (along with ongoing deadline reminders), where they can go for help, and answers to common questions, among other details. Proactive communication can help minimize employee anxiety, which can in turn, reduce your stress and frustration.
For more ideas on how to thrive this Annual Enrollment season, download our AE Boot Camp webinar.