One of the biggest challenges during Annual Enrollment (AE) is keeping employees engaged. Digital tools help employees choose the best benefits for themselves and their dependents.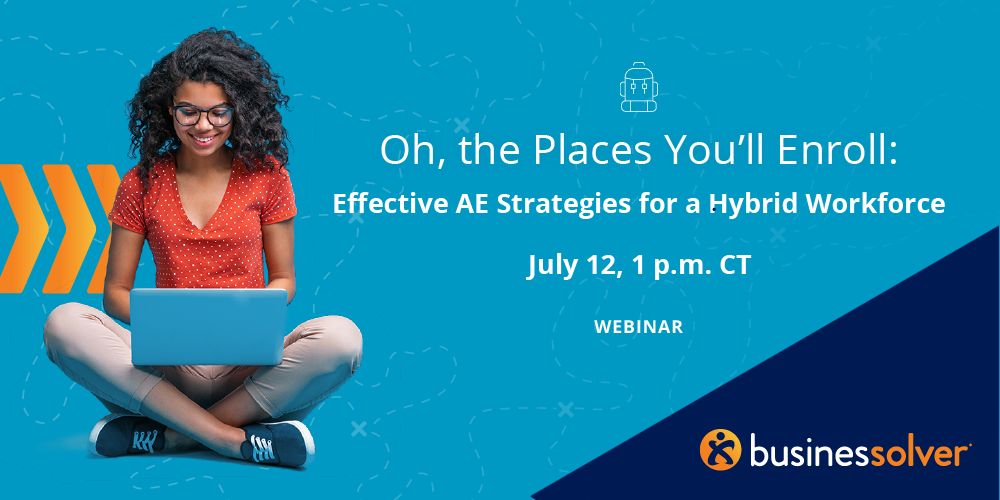 With 2023 enrollment fast approaching, HR/benefits professionals are developing communication strategies to increase engagement. If successful, those strategies will result in employees choosing the right plans for their current needs (aka, not the exact plans as the year before without thoughtful consideration), meeting enrollment deadlines, and navigating the process with confidence (not coddling) from their colleagues in HR.
The pandemic accelerated the number of teams using digital communication tools to meet the changing needs of remote and hybrid workforces during AE—it's clear that to run a successful annual enrollment, these tools are here to stay.
While traditional print benefits guides can still be an effective way of getting employees to engage, increased paper, printing, and mailing costs make them less appealing to employers (and postal service workers)—not to mention employees (7% of whom call communications a "waste").
To bring a unique enrollment experience that bonds employees across locations, employers need to meet employees where they want to be met during enrollment season: Online.
What communication tools give employers the best engagement results?
Industry reports show a high-performing annual enrollment features three things:
Decision-support tools. These solutions cut clutter and confusion while adding personalization to the benefits enrollment process, increasing employees engagement an average of 77%.

Digital postcards. Snail mail is so 2009, and apparently email is so 2019—digital postcards

outperformed

email alone, averaging a 72% engagement rate.

Video—it may have killed the radio star, but it's reviving AE as the new standard of employee education; both short- and long-form, including other dynamic visuals, boost engagement beyond print materials.
Organizations already utilizing these tools with their benefits administration software are well on their way to a successful AE. How can employers continue to increase engagement even further?
 To make an impact with employees wherever they work and live, and drive engagement to an all-time high, consider implementing these additional three tactics for increasing engagement during annual enrollment:
1. Combine virtual and live events for AE.
As more employees return to the office, it may be tempting to revert to traditional annual enrollment procedures and schedule exclusively live events to discuss annual enrollment. While live events provide a way for employees to ask questions in real time about their benefits, this certainly should not be the only method used if employers want to increase engagement.
Instead, employers should be open to creating unique online experiences to supplement their efforts
Virtual benefits fairs are an excellent way to meet employers where they expect to be met. Developing digital experiences, like benefits fairs, help save organizations money, create a seamless experience for employees, and allow people to digest benefits information at their own pace.
2.
Make everything mobile-friendly.
 Whether it's video, mobile app, text messages, or e-book, mobile-forward communication strategies will get the most AE engagement.
 Although there is still a time and place for email communications, focusing on mobile ensures that employees who rely heavily on their phones can get the information they need to make better benefits decisions—even on the go.
 Remember, the goal is to meet employees wherever they are in their benefits journey, so make sure to personalize communications as much as possible. Many technologies today allow employers to customize mobile messaging for specific populations.
3. Continue the employee benefits conversation post-enrollment.
It's true that annual enrollment only happens once a year—besides qualifying events, of course — but that doesn't mean the conversation has to end there.
Once the official annual enrollment is complete, keep employees engaged with their benefits by touching base throughout the year. Leverage those fun educational materials created for AE to let people know how to best utilize their benefits.  
It is a well-known (albeit frustrating) fact that employees are confused by their benefits, even post-enrollment. Introducing a personal benefits assistant can be another effective way to continue the benefits conversation. A bank of digital resources, even if they are not powered by artificial intelligence, supports employees needs without overwhelming HR teams.
 Looking for more information on how to run a successful annual enrollment this year? Watch our "Oh, the Places You'll Enroll: Effective AE Strategies for a Hybrid Workforce" webinar on demand or read through the webinar highlights.