Sofia, our AI personal benefits assistant, has been a key member of our Businessolver team since 2017.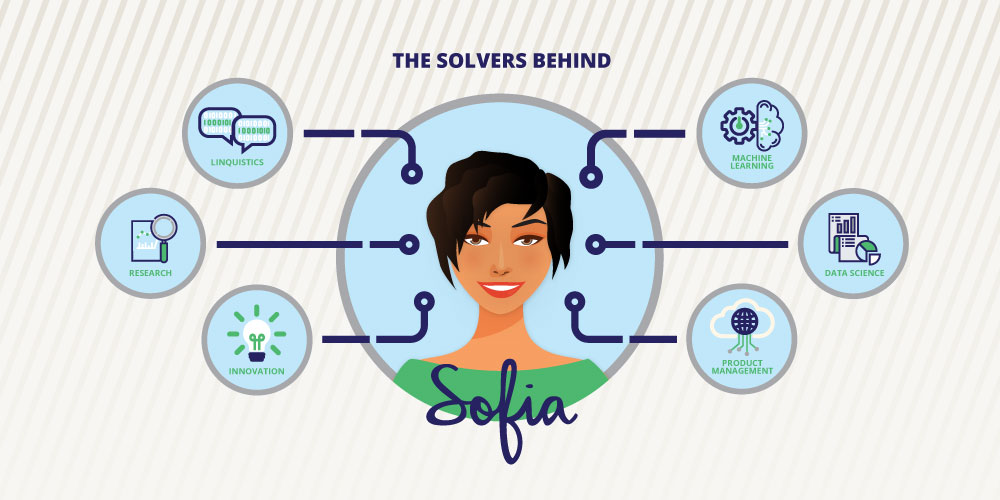 In that time, she has made tremendous strides in her abilities and knowledge.
In fact, Sofia is way more than a chat-bot. She has evolved far beyond a simple Q&A. Over the years, she has expanded her benefits knowledge, vocabulary and machine learning abilities, to become an intelligent application that helps employees navigate their benefits.
63% of people prefer to speak with an AI application vs. talk with a human when communicating with a business. Knowing the evolution of consumer interactions, our Data Science and Innovation team at Businessolver focuses on creating customer-centric experiences using voice and text-based AI interactions that help users find the right information at the right time.
We see this increase in chat volume in our own data. During our 2020 AE season, Sofia took 76% of total chat volume. In two years, her knowledge base has multiplied 7X and she has the ability to answer questions in 28 different languages.
How does she do it?
Sofia is built with machine learning and natural language processing. This means she grows smarter with each interaction and is not defined by a strict rule set. Think of how many different ways someone could ask about dependent care coverage - it's no problem for Sofia who significantly cuts down on employees' wait times in finding the answers they need. Additionally, Sofia is in a unique position to impact how employees use their benefits thanks to her infinite ability to pull data. She pulls forward relevant benefits information based on employees' questions and can proactively navigate employees to programs and resources that may improve their overall health and wealth.
Sofia's innovation is supported by a wide array of professionals to ensure her learning track is on the right track. To fully support her development, we have curated an impressive group of individuals that include: Research Scientists, Computational Linguists, Machine Learning Engineers, Product Managers, and Software Engineers.
Unique roles supporting unique functions
AI is a multidisciplinary field consisting of a deep understanding of math, computer science, linguistics, psychology and the business domain you operate in.
So, in addition to the traditional product team members, we have other notable roles on our team:
Research Scientists

whose responsibility is to test out new ideas, they design experiments, build models and keep us at the forefront of our field.

Machine learning engineers

work closely with our product and software engineering teams to convert our research ideas into production ready applications.

Computational linguists

who help Sofia understand the

nuances of language and how to handle them. Since Sofia is capable of operating in 28 languages, the problem space extends past English.

Software Engineers

use the latest technology to build new features and improve existing components for Sofia.

Product Managers

look to understand, first and foremost, our customers, then our industry, marketplace, and our AI capabilities so that they can represent the customers' voice when making decisions on Sofia's development.
In the coming weeks, we will be exploring and taking a deeper dive into each of these roles, giving you a sneak peek into the team behind Sofia. Every Monday we will broadcast a new interview with a different person on our team. You can watch live at 12:30pm CST on our Facebook or LinkedIn social channels. Additionally, check back here the following day if you miss the live broadcast with the recording.
** Update: you can watch all the interviews below. Get a deep dive into how Sofia is developed and how she works.
The Solvers Behind Sofia: Machine Learning Research Scientist
The Solvers Behind Sofia: Computational Linguist
The Solvers Behind Sofia: Machine Learning Engineer
The Solvers Behind Sofia: Data Science and Innovation Manager
The Solvers Behind Sofia: Product Manager
If you'd like to know more about Sofia now, check out our infographic below.