This past October we launched Sofia, our machine-learning, personal benefits assistant who, during annual enrollment, demonstrated how artificial intelligence can improve, quicken, and streamline the benefits process.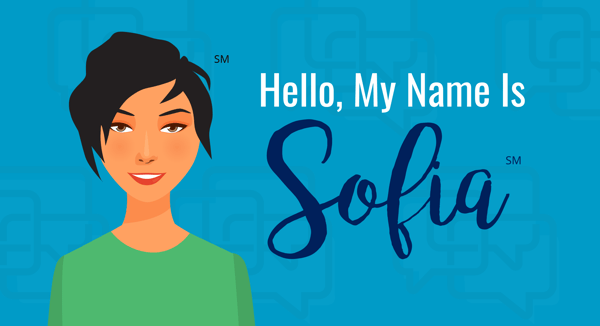 When assisting employees with their benefits questions, Sofia uses machine learning which evolves and expands as she answers more questions. We were excited to see that Sofia is providing valuable information to employees, helping them enroll in or manage their benefits – she is even active right now, 24/7 – 365!
The stats
With a new season upon us and winter starting to loosen its grip - we thought it was about time to fill you in on how Sofia is doing! During the 2017 Annual Enrollment, she really hit the ground running (or should we say cyber space?). Either way, here are just some of the stats:
Took 20% of the total chat volume, allowing our Benefit Specialists to assist other members with more complex needs.

Handled 12% of chats after hours, when the Service Center was closed.

Saved members more than 35,000 minutes from waiting "in line" during peak hours.

Was equally engaged with members across all three generations (35% Millennials, 33% Gen X and 34% Baby Boomers).

Increased her knowledge set by more than 150%!
Let's dig into those numbers a bit more. Surprisingly, there was no bias toward one generation but rather all ages found that Sofia could provide them the information they needed. Although one interesting fact we were not expecting, is she interacted with more males (66%) than females (34%). We are excited to see how these numbers change as Sofia continues to grow.
Time saver
Sofia also saved people a lot of time. She is available immediately which means we saved users more than 35,000 minutes because there was zero wait time in a chat queue. She was also available at all hours, taking more than 12% of chats outside business hours. That's really important for those employees who work alternate shifts who may be sleeping during Service Center hours or who are looking for a quick answer to a question while on a break. This is just one more way we are meeting people where they want to be met, and at the time that is best for them.
Sofia's got jokes!
Lastly, while Sofia is getting smarter every day, thanks to interactions with thousands of employees, she also managed to have a bit of fun. She told hundreds of jokes, proving that technology doesn't have to be robotic or impersonal. In fact, we had several employees make the comment that they didn't even realize they weren't talking to a real human!
Well done, Sofia.
What's next?
Sofia certainly isn't done learning! This month we will be releasing her voice recognition capabilities. That means you will be able to ask her a question and she will respond (with a HIPAA Compliant response of course!) out loud, just like Alexa™ or Siri™ does today.
In addition, Sofia is going to be available outside the Service Center! This is an exciting opportunity that will allow Sofia to interact with even more members, which increases her ability to answer more complex questions and provide greater assistance.
Interested in learning more? Download our Sofia infographic!