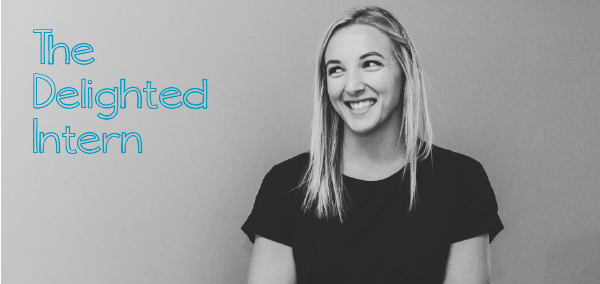 The Delighted Intern series gives an inside look at how our interns are making an impact here at Businessolver. This week, meet Katy Cavanaugh, our Employee Engagement Intern. Eager to get started, she began her internship during winter break before heading back to Iowa State to hit the books for Spring Semester. We have her back for the summer and received an update on the different tasks she is working on right now.
As a senior who isn't quite sure what she wants to do with her Marketing degree, this internship is helping me shape my future professional career. So far, I have gotten the most experience with the Recruiting and Onboarding & Training departments, two areas in the employee engagement department. I get to sit in on interviews, which has been my favorite task thus far, because I feel as though I'm gaining a new perspective as the recruiter instead of the interviewee. Last week, I had the opportunity to revamp our video interview process, which included recording our employees asking new questions for potential employees.
Businessolver hired over 200 people last year, so you can only imagine how busy our Onboarding & Training team is. I get to assist our Onboarding Specialist, Kim Davidson, with New Hire Orientation and all that that entails. This includes getting lunch orders together for new hire groups on their first day, scheduling people in training classes, and other miscellaneous tasks. I have also recently helped Kirsten Anderson, the head of our Professional Development Program (PDP), with various duties as we introduce ten recent college graduates to our team in Des Moines.
Finally, I get to practice and improve upon my leadership skills through my internship at Businessolver. I function as the liaison between the interns and their leaders and am responsible for managing the interns' time off, as well as their daily attendance. I have bi-weekly one-on-one meetings with the other interns to assure they are doing meaningful work (no mind-numbing scanning or coffee runs!) and are feeling fulfilled during their time here.
Although I love spending time in the fast paced and upbeat environment that is Businessolver, when I'm not in the office, my favorite things include: yoga, running, being involved in the Des Moines community, and spending time with my friends and family. My mantra to live by is 'breathe, patience, persistence'. I often need to remind myself that almost everything takes time and that I should breathe, be patient and continue to be persistent in everything that I do.