If you're anything like me, you're a frequent visitor to the ice cream section of your local grocery store.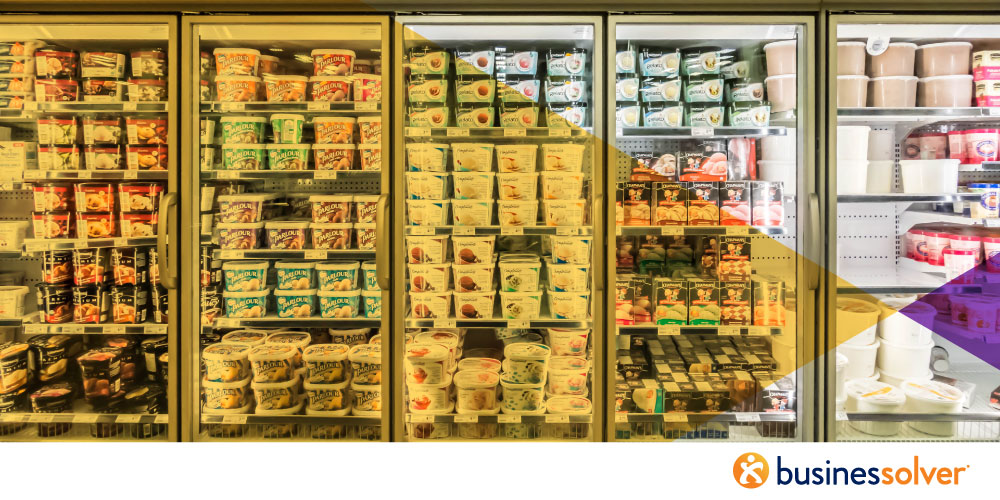 Whether you are a Midwesterner going to Casey's, out west visiting Safeway or at an Albertson's in Texas, every store has a similar ice cream section. And, in that section, you have different options. You have ice cream by the pint, ice cream in a cardboard box (with the flaps that I can never seem to close without getting my hands messy), and the big ice cream tub with the handle. Even if you take a trip to a local convenience store, or bodega for our friends in New York, it's typically the same type of arrangement.
What happens if you introduce a new shape?
Now, let's say an ice cream manufacturer decided to package their ice cream in a cereal box-size container. Instead of the typical ice cream box that's short and squarish, this frozen confection comes in a tall, narrow box.
So what happens when the ice cream sales representative meets with the grocery chain manager to try to distribute his ice cream? The grocery store manager is going to tell her that while the ice cream is good, it doesn't fit onto the shelf. It would be costly, disruptive and, frankly, annoying for the grocery store to invest the time and dollars to reconfigure the shelves just for one ice cream manufacturer.
Things start to get complicated.
This creates an inefficient process for everyone involved. The store manager either has to invest time and dollars to completely redesign his shelf to fit cereal box-shaped ice cream containers or has to create a one-off process for people to buy this ice cream through a separate shopping process. It also creates problems for the consumer. Most people have about 45 minutes a week carved out for grocery shopping. During that 45 minutes they want to get everything they need in a way that is easy, familiar and convenient. They don't want a separate shopping process for one type of item, even if it is ice cream.
Insurance can act the same way as ice cream boxes.
What does this have to do with insurance products? Well, what was described above is an all-too-familiar situation when it comes to supplemental products in the world of insurance.
Most people have a small amount of time carved out for enrolling in their health and insurance benefits – data suggest it's less than 20 minutes each year. During that process, people want an easy way to enroll in all of their benefits. The proliferation of online enrollment technology has created a fantastic way for consumers to participate in the ever-expanding list of benefits options offered by their employer.
But what happens if one or two of those benefits don't fit into the online benefits enrollment experience offered through their employer? You create a situation where the enrollment technology provided must develop a costly, disruptive and annoying one-off process to enroll in those benefits (sound familiar?). It also creates a disjointed experience for the consumer, which many times leads to the consumer losing interest.
Instead of forcing enrollment technology to put your cereal box-shaped ice cream on the shelf, it's important for insurance carriers to adopt a technology-first mindset when creating products. Many large insurers have products being enrolled on over 100 different enrollment systems. While it's not feasible to create a product specific to each of those systems, there are common attributes that make a product technology friendly. Insurance companies selling supplemental benefits need to think more empathetically and align with core products such as medical, dental and vision. It means avoiding state-of-residence-based nuances such as health questions, disclosures or illustrations. It means designing products that easily fit into the Annual Enrollment and mid-year life event process. It also means limiting the IT involvement required from the technology partner around real-time integration.
What it means to be carrier agnostic.
Some sophisticated enrollment technologies (like that offered by Businessolver) have created capabilities to work with a large number of insurance products. Many enrollment systems in the market, however, are unable to support some of the more complex benefit plan designs that include knockout questions, state-based requirements, issue age and policy stacking, or even real-time integration with a third-party system during the enrollment process.
In addition to focusing on simplifying the enrollment process, an often-overlooked friction point for supplemental products is billing and administration. If an employer is able to handle billing across all core insurance products through a straightforward, simplified process, why not have supplemental benefits follow this same process? Instead, many carriers have created a separate billing and administrative process that is different from all the other employee benefits products offered by the employer.
Simplifying the process.
Leading carriers have intentionally designed supplemental products and administrative best practices that allow our products to mirror many of the same eligibility and enrollment requirements found in common core products such as medical, dental and life insurance. This gives brokers and their clients flexibility and allows for a familiar process for both employees and enrollment technology systems to enroll in, utilize and administer our products, which has led to high marks from everyone in the process.
So, skip the cereal box ice cream package, and instead focus on creating products that work for the consumer and enrollment technology.
Technology innovations matter. But without heart and intentional design, innovations could fall flat. Learn why Tech with Heart matters now, more than ever.
Tim is the Director of Partner Integration for Voya, and has worked in the Benefits Administration and Enrollment Technology industry for over 19 years. In addition to his Voya duties, Tim also serves on the executive committee for the LIMRA EDI Standards initiative and is active in various industry events and discussions. Tim received his MBA from the University of Iowa, and currently resides in Des Moines, IA.