We have a lot of ideas when it comes to Sofia.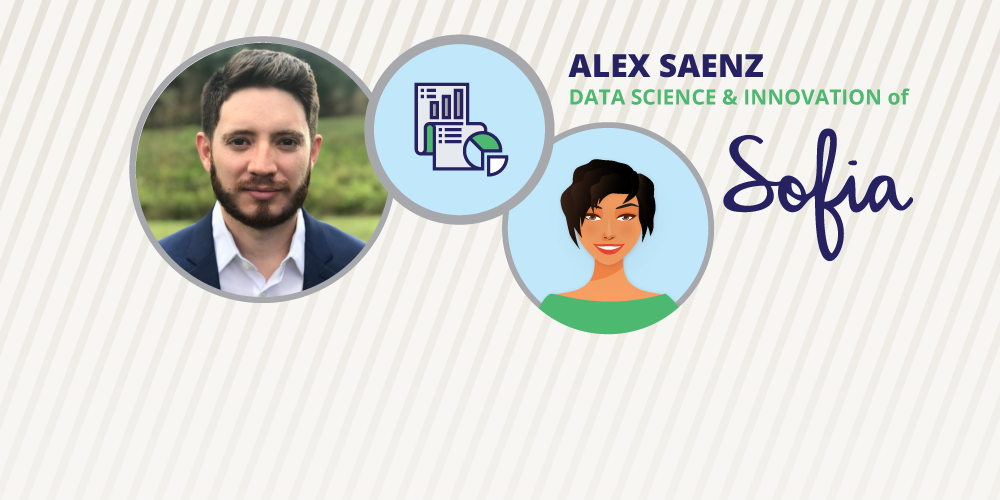 It's Alex's job to parse through those ideas and make sure our teams are focusing on the right paths forward.
Yes, of course we wish all of our ideas were implemented. But it's important to not have shiny new technology syndrome when developing an AI-personal benefits assistant. At the end of the day, she helps people find the answers they need when it comes to enrollment and using their benefits. Therefore, some ideas or enhancements might take away from that end goal.
I sat down with Alex to chat more about his role in Sofia's development and future projects. **The conversation below was edited for clarity and length.
Can you tell us a little more about your work and your background?
I've been a Solver for 11 years now. One of the things that has kept me here is that I get to work on projects and do things that are completely different. Every year, we are acquiring new technology and developing a lot of new things around Sofia, it's a very exciting, fast-paced field to work in.
But, the past four years especially have been the most rewarding experience developing Sofia. It goes beyond the AI technology, which is shiny and cutting-edge. The most rewarding part of the job is the impact we are having on our end-users. It's palpable, and we get to see it every day. She has grown so much and with that growth and expanded understanding, she helps people. It's so rewarding to see us helping our users. In the middle of the night, you can get the answers you need about your benefits from Sofia.
Can you tell us what it's like in the day in the life of Alex?
That's an interesting question. Most days, I like to come to the day with a plan. I even try and plan for the week. But I will admit that even y best made plans sometimes take new directions. With this technology and the way we want to continue being agile in the field, projects and plans move and change quickly. They have to, and that's ok.
Back to the day in the life, for the most part, meetings are a big part of my day. I have meetings with product managers to make sure what we are working on is the right solutions for our clients. I spend a lot of time with developers and coaching senior developers. We do a lot of team-wide training sessions and also have exploration sessions which allow developers to explore a new topic or expand on an interest.
Mostly I make sure that everyone is on the same page and moving in the same direction with projects.
When you look back at 2020, how did you help Sofia evolve?
One of the things we really focused on in 2020 is making sure we understand people better and understand their intents. As my colleagues mentioned, our space is complex. Benefits are difficult to understand, it's not an easy thing. One thing we wanted Sofia to be able to do is access all the information about one individual in a cohesive and helpful way.
When you think about benefits and health care you know that there are multiple documents that expand through multiple years. That's one of the major changes we've made is making all those documents accessible to Sofia so she can give you more in-depth answers to your inquiries.
It may sound simplistic for Sofia to do a text search through documents, but it's a lot more than that. We've worked hard so that when you ask Sofia a question, it's like talking or interacting with a person. Natural language processing is how you can ask Sofia a question and she is able to take that question and look into your documents to find the right answer that's personalized to you specifically.
A great example is if you typed "back pain" into Sofia's chat window. Sofia is able to take those two words and build ten or more sentences to use against the documents in your file. She could say, "In your benefits documents, I have found that you have access to chiropractic services." Many people will then ask how to access those services and Sofia can pull the right answer, contact information or hours of operation from those documents and the web to help you access the care you need, when you need it.
That has been a huge focus for 2020. Developing Sofia to provide that kind of personalized benefits experience by solving the question behind the question.
How do you see AI evolving in the future?
By continuing to develop Sofia to be able to access more and more data sets and construct a more personalized benefits approach, she can help bridge the gap between people and their benefits.
Our clients are challenged to help employees understand and use their benefits and services. We know from our own data that employees have low benefits literacy. But when people are made aware of their benefits they take advantage of those services. The human element is of course important but now technology can help.
Sofia is opening up avenues for higher benefits literacy. Not only helping employees understand what the benefit is but also how to use it.
What do you love to do outside of work?
Well, I have three kids which takes up most of my free time! That and I'm also enrolled in grad school. As a family, we love to be outdoors, we go to the beach. I live in Florida, so we try and get to the beach as often as we can. But we also love mountains and recently went on a road trip and stayed in a cabin. We wanted to see some season changes!
Watch the full interview with more insights below.
If you missed our past interviews with our other Solvers Behind Sofia, check them out below.
Yanan Jia Machine Learning Research Scientist
Lexi Loessberg-Zahl Computational Linguist
Delong Zhang Machine Learning Engineer