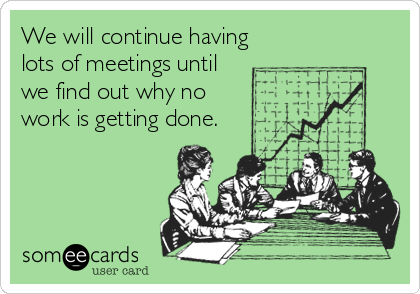 "We will continue having lots of meetings until we find out why no work is getting done."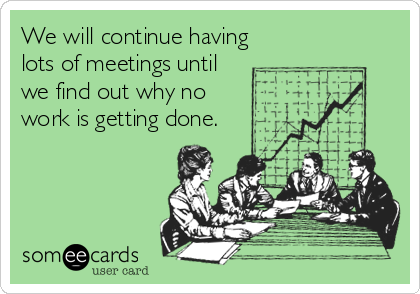 It's easy to laugh at this joke because unfortunately, it resonates with many of us working professionals. We laugh because we've been there—a meeting that has unnecessary people. A meeting that took much longer than it needed to. A meeting where no decision was made. A meeting that could have easily been just a conversation instead.
It seems as if today's meeting culture has gotten a little out of hand. Meetings have become a standard in today's workforce. They're our default answer to how we communicate, work on projects, make decisions and brainstorm. But many times, a meeting doesn't have to be a meeting, and if it does, a little more intention and purpose can go a long way.
Becoming Meeting Slayers
Earlier this year at Businessolver, we focused a lot of time becoming "Meeting Slayers" by becoming conscious of how much time we spent in meetings, and if they were a good use of our time. Each team was required to add up the number of hours scheduled in meetings per week.
The results were eye-opening. So, we decided to dive in even further and not only analyze how much time was being spent in meetings, but also the quality. We analyzed how many of our meetings were really necessary. How many meetings ended up with little or no resolution? What if instead of having meeting envy, we relished in meeting absence?
We've since then made a company-wide effort to become leaner with our meetings to get time back on our side. And while we couldn't abolish or "slay" meetings altogether, we have found ways to overhaul our company meeting culture. We've made meetings the exception, not the rule, and have become more purposeful and intentional about our meetings. How did we create the shift?
The Modern Meeting
We found inspiration from Al Pittampalli, who is known as today's modern meeting culture warrior. According to Al, the average American office worker spends eleven hours in meetings every week (our meeting tracking provided similar results!). Yet all that time sitting around a conference table hasn't made employees more productive. If anything, meetings have made work worse. Traditional meetings reduce efficiency, kill urgency, and breed compromise and complacency. Worst of all, a dysfunctional meeting culture changes how we focus, what we focus on, and what decisions we make.
Al, however, believes that there is a solution—a way to have fewer, shorter, and most importantly, more purposeful meetings. He has taught us that with a little practice, it's easier than you might think to hold the kind of productive meetings that leave participants feeling energized and glad they attended. We want to share his knowledge with you and give you the chance to change the tone of meeting culture at your own organization too.
We're excited to announce Al, author and brain behind Read This Before Our Next Meeting, will be joining us as our keynote speaker in Las Vegas on April 4th for the first stop our Vision 20/16 Tour. During the conference, Al will share how to transform your organization's own meeting culture. He'll also share lessons in decision making, becoming persuadable and how to have effective team coordination. We can't wait for him to share lessons that have made such an impact within our own organization!
Want to attend? Click here to see the full agenda.