We are happy to share that Sean McMurray, a Businessolver co-founder, left our Board of Directors to join us in June as Chief Technology Officer.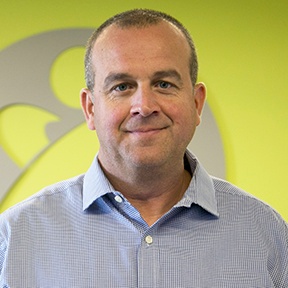 Sean brings to our team more than 20 years of tech experience and a wealth of institutional knowledge: After all, he's one of the original builders and designers of the Benefitsolver platform. I sat down with Sean to talk more about his role and his goals for Businessolver's future.
Since "boomeranging" back to Businessolver, what is the biggest change that you see in the business since helping Jon found the company in 1998?
Since being involved from the inception of this company, I have had the privilege to see it grow in ways I could not have imagined. Serving on the Board gave me a front-row seat to the company's big decisions and major milestones. I believe the biggest change I have seen is the improvement in the products we supply to our clients as well as the people who support those products. Our dedication to customer service is second to none.
What are your goals for your new role?
I'm a lifelong entrepreneur and have seen that success comes from above-and-beyond customer service. Making a client feel supported and gaining their trust are crucial for securing a sale. To do that, I plan on keeping up with the latest in technology, security, and skillsets. I also hope to inspire and encourage my team to do the same so that we can continue to improve and provide top-notch service every day.
Can you explain the role of a CTO at Businessolver and why it is important?
I was very fortunate to come back to Businessolver with the equivalent of two CTOs: Pete Mondloch and Tom Pohl. They have done an excellent job of moving the team forward. The CTO is an important position because it keeps the heart of our business moving forward in the same direction – and that is what I hope to bring to this position. We need to continue to supply accurate data to all entities involved with Businessolver, especially the users of our solution. It is so important for me to give technology a bigger presence and voice in the market today.
What are some of the biggest challenges facing the HR technology industry today?
The biggest challenge facing our platform, in my opinion, is validating data. At the core of every HR/benefits system is data that is used to work with multiple systems to monitor regulations and validate decisions. It is critical that this data is secure and accurate because it is used to help people with their "life events."
Security is a big focus at Businessolver, why is it so important to secure our customers information today more than ever before?
At Businessolver, we are responsible for protecting the personal data of our customers. It is our job to make sure this data is secure because, as we know, this information is extremely valuable to cyberhackers. An analysis of a recent FBI crime report reveals only an estimated 15 percent of the nation's fraud victims report their crimes to law enforcement. For 2016, 298,728 complaints were received, with a total victim loss of $1.33 billion. If that 15 percent estimate is close to accurate, that means the real cost of cyber fraud for Americans last year was probably closer to $9 billion, and the losses from ransomware attacks upwards of $16 million. The numbers are staggering!
What is your leadership style?
My favorite saying is, "Please do not spend time figuring out how we got cut; instead, stop the bleeding first." I think this explains my leadership style because I don't believe in living in the past, but I do want my teams to be dedicated to fixing an issue to ensure that we are providing our clients with the best customer service possible. I do not like to micromanage; instead I believe in redirecting and guiding my teams to find solutions that will work for their customers.
What is the best advice you've ever received?
You need to surround yourself with other smart and successful people to make yourself better. Never be afraid to work with someone smarter than you because it is so critical to your career to never stop learning – especially in the technology industry!
What is one of your favorite books you've read lately?
Like I said, I really believe in the power of continued education, so I'm currently reading a book focused on augmented reality around data. Another book I often reference is "MoneyBall," because I love baseball and the way the author uses data to inform real-life decisions absolutely fascinates me.
What is a recent accomplishment that you are really proud of?
From a personal perspective, this one is easy – my family. I am very blessed to have four successful sons, one daughter-in-law, another new daughter-in-law in 2018, plus a new grandchild. From a business perspective, I'm proud to have been involved in four successful startup technology businesses from day one – including Businessolver.