From social movements to political polarization, the American workforce has experienced a confluence of events resulting in companies taking the mantle of social responsibility.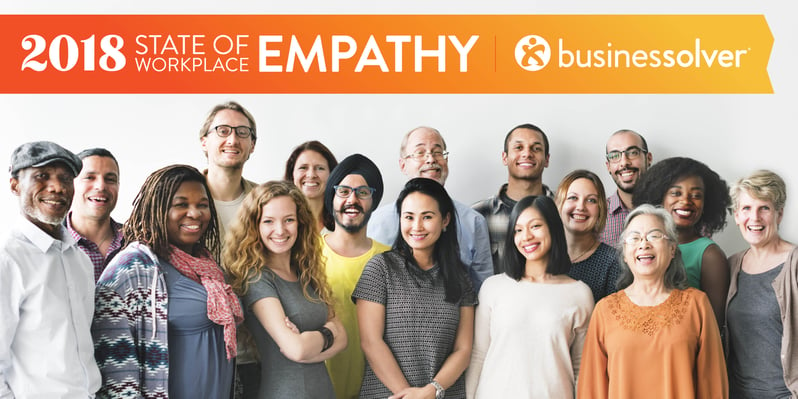 Employees are increasingly seeking to work for corporations or organizations that align with their personal values, and organizations are recognizing the growing role of social consciousness.
Those who are not embracing the changing state of our business landscape are being left behind in the proverbial dust.
Diversity is no longer a nice-to-have or a PR move: It's now a business imperative. Smart organizations realize this, and are looking to review, rebuild and renew their organizations with a focus on making them more representative of the diverse communities in which we live. What is that factor that develops this diversity – in demographics, in knowledge and in experience – that is so critical to the survival of businesses today? Being able to understand the feelings, needs and priorities of another.
In other words, empathy.
The need to lead by example.
As diversity and inclusiveness have risen to the top of public conversations, businesses can no longer watch from the sidelines. Employers need to show they are making a concerted effort to build a representative workforce – their workforce is taking notice.
In our 2018 State of Workplace Empathy study, at Businessolver we found that only 33 percent of women believe organizations and companies as a whole are empathetic, revealing a massive 38-point gap between female and male employees. Unfortunately, this isn't much of a surprise when you consider that in 2017, a sampling of Fortune 500 companies revealed that only 6.4 percent of CEOs were female.
So while this "empathy gap" persists, our survey findings overwhelmingly reveal that women are seen as the most empathetic employees, and large majorities of CEOs, HR professionals, and employees agreed that companies would be more empathetic if there were more women in leadership positions. And it isn't just women who notice—all employees agreed that having more women in leadership increases empathy at an organization, making gender diversity a powerful and effective strategy for companies to set themselves apart.
Diversity is diverse, but the business case is clear.
Genuine diversity goes well beyond gender. It means inclusiveness based on ethnicity, age, religious affiliation, sexual orientation, and more. Yet, right now, many American companies are falling short in achieving diversity in many of these areas.
In reviewing a sample of Fortune 500 companies from 2017, only 2 percent of CEOs were African-American, and only 3 percent were Latino. Furthermore, of the 500 companies on Fortune's famous list, 400 share no data at all about the diversity of their workforce, including at different job levels and in management. This suggests that firms could place greater emphasis on how they demonstrate diversity, and it starts with the top.
Our research showed that 91 percent of minority respondents believed increased diversity in leadership would lead to more empathetic organizations. In fact, all respondents across job titles, ages, and genders, in addition to all demographics surveyed agreed with this statement in large numbers. Just as women in leadership signals greater empathy to employees, so too does leadership that encompasses a wide range of voices.
Yet diversity and, thus, empathy don't just happen overnight. Cultivating a diverse leadership team takes time and effort on the part of the C-suite and the HR department. In addition to hiring practices that value diverse backgrounds and skill sets, companies must work towards the goal of representative leadership in their retention and mentoring efforts. Management must make it a priority to develop the leadership skills of all their employees, and actively encourage mentoring and advancement of women and minorities, as well as older and younger workers. This will result in qualified leaders across the board, which then will demonstrate empathy to employees, thereby building a virtuous cycle of recruitment, retention, and advancement for employees of all backgrounds.
Empathy attracts top talent. Top talent wants diversity. Diversity impacts the bottom line.
In our State of Workplace Empathy study, we found that 9 out of 10 employees are more likely to stay with an empathetic organization. In addition, more than two-thirds of employees surveyed would consider leaving their job if their employer became less empathetic.
In addition, more than 80 percent of survey respondents said they would be willing to work longer hours for an empathetic employer. And more notably, across a range of industries including technology, healthcare, and finance, more than three-quarters of those surveyed would be willing to accept less pay in exchange for working for a more empathetic employer.
What does this mean?
According to Joseph G. Hadzima Jr., Senior Lecturer at MIT Sloan School of Management, finding top talent is not only difficult, but expensive with the recruitment cost "typically in the 1.25 to 1.4 times base salary range." That can add up as businesses try to find the right employees to fit a role.
To avoid the high cost of turnover, employers need to authentically demonstrate empathy to attract and retain employees from all backgrounds and walks of life. This also enables them to leverage all of the skills and innovation this diverse workforce has to offer—and diversity in leadership is a critical part of this effort.
The benefits of empathy in the workplace are significant—for employees trying to balance work and personal lives, for HR professionals trying to recruit and retain the best people, and for CEOs trying to maximize their company's financial performance. Organizations that have a strategy at their fingertips to distinguish themselves as empathetic and take advantage of these benefits will commit to diversifying their leadership and ensure that executive boards, the C-suite, and the management pipeline reflect the demographics of their organization—and the country—as a whole.
Get the full story and read our 2018 State of Workplace Empathy study below.