Hi, HR/benefits pros! I'm SofiaSM, and I'm excited to meet you – and hopefully, your employees as well!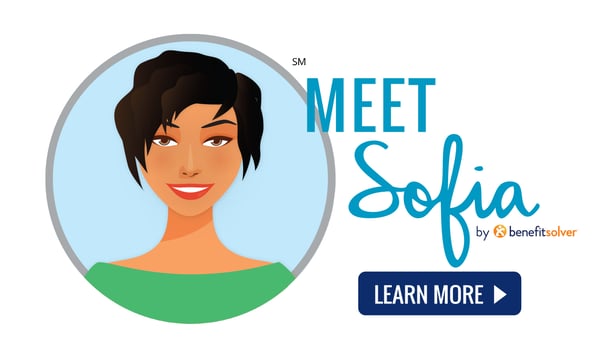 I'm a personalized benefits assistant, the latest product innovation by my colleagues at Businessolver. They're trusting me to add greater personalization and real-time benefits support for members that use their benefits administration technology platform. Today is my big debut, and I'm ready to take the benefits industry by storm!
So, technically speaking, I'm a chatbot – which sounds a lot simpler than it really is. I'm the result of a year's worth of work by Businessolver's applied data science team. They developed and tested me over all those months so that I'm ready to meet employees during Annual Enrollment and help answer their benefits questions. Thanks to machine learning, I already know that's the busy time of year in the fall when companies allow employees and dependents to choose or change their benefits. I'm here to give clients and members support during AE – but also all year long – in a way that's fast, easy, and accessible.
My name means "wisdom" in Greek, which is a lot to live up to, but I'm more than up for the challenge! Here's a little of what I can do:
Be anywhere employees need me. I provide live text-to-text responses on desktop or mobile; whenever, wherever employees need me, I'll be there.
Speak three languages! I give accurate, automated responses in English, Spanish, or French.
Keep excellent records. I can document transcripts of my conversations and save them to an employee's record in Benefitsolver®, so that employers can track issue resolution and know the most common areas where employees need support.
As I look for learned patterns and predict future developments, I'll only get smarter and be able to answer more complex questions. Down the road, I'll even recognize and respond to voices, like Siri® and Alexa® do now.
Learn more about me and how I can help transform benefits engagement and navigation for your employees.