Since 2018, employees have been increasingly successful in creating a rainy-day fund that will cover a large, unexpected medical expense.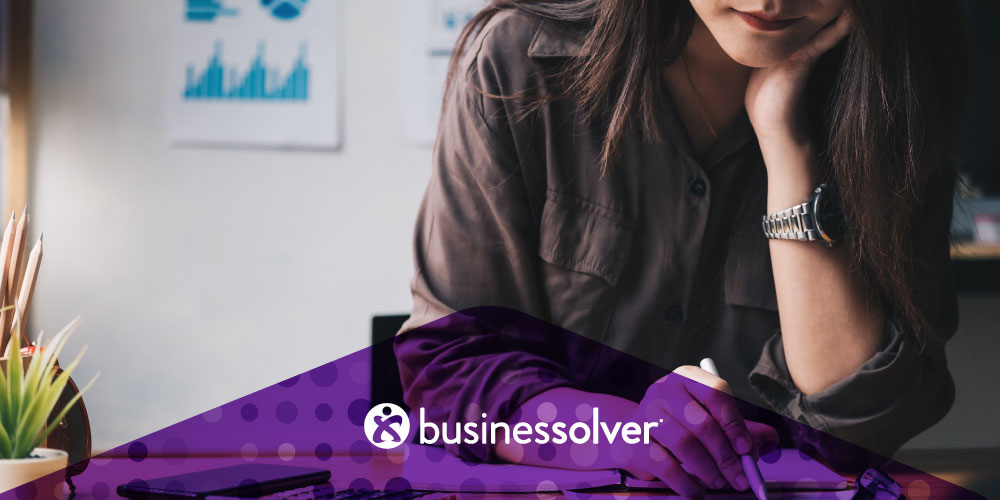 However, a new Businessolver report shows fewer are now comfortable with the prospect of parting with their hard-earned savings cushion to do so.
The silver lining of employees' greater financial preparedness—despite the economic hardships that dominated much of the national conversation in 2020—is among the top-line findings of our third annual MyChoice® Recommendation Engine Benefits Insights Report.
When making benefits choices within Benefitsolver®, employees can opt to use the MyChoice Recommendation Engine. Based on their responses to a set of specially designed questions, users get a set of personalized benefit plan recommendations.
When we look at these responses in aggregate, an overall picture emerges of employees' state of mind when they choose their benefits.
One theme that emerges is the difference between how much employees are saving and how they feel about it.
Let's first look at people's financial preparedness. Here's how employees responded to, "Would your rainy-day fund cover a large ER bill?"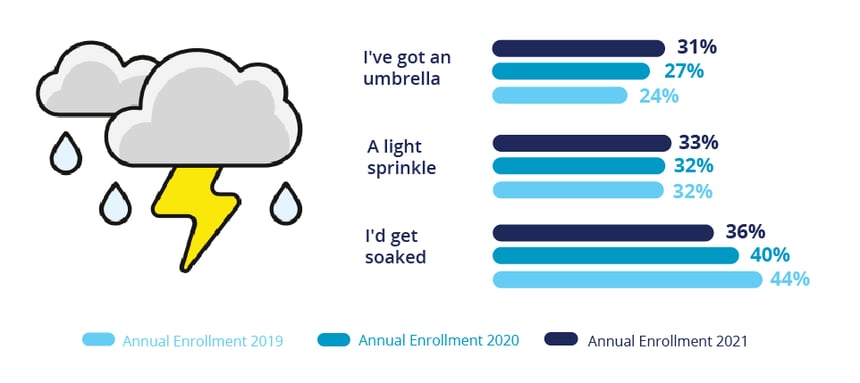 Since enrolling for their 2019 benefits, an increasing number of employees indicate they have resources on hand for a large out-of-pocket health care bill, while fewer report they would face a significant shortfall.
It might be tempting to attribute these shifts in people's saving habits to overall belt-tightening in response to COVID-19. However, health care savings for the workforce as a whole have been ticking up since 2018.
While disparities persist in employees' income, saving level and financial preparedness (and we discuss those further in the report), it's important to note that even as employees overall feel more prepared for the financial impact of a large health care bill, they are also increasingly hesitant about actually spending the money.
This is how employees answered, "How do you feel about facing a large ER bill?"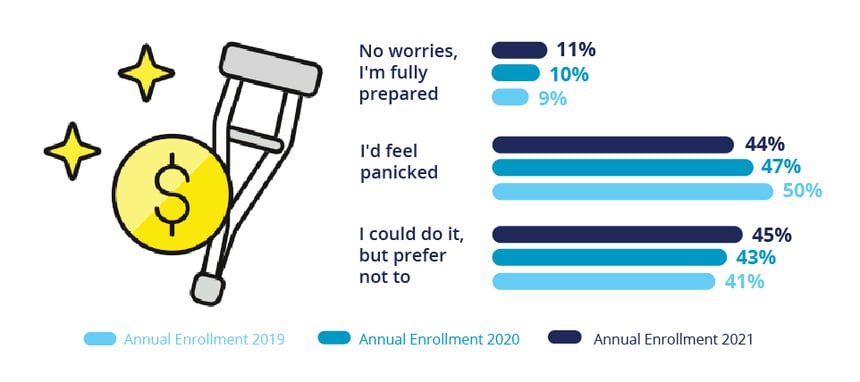 More employees reported they were fully prepared, which seems like a step in the right direction.
However, in each of the past three years the number indicating they had no worries about a large bill is significantly less than the number who indicated they had a healthy rainy-day fund.
At the same time, those indicating they could bear the cost but would just prefer not to has increased.
It's also remarkable that more employees would be "panicked" by the prospect of a large bill than the number who said a large bill would "soak" them.
These results point to a foundational concept in behavioral economics: loss aversion. Simply put, people don't like to lose, and we really don't like to give things up—evidenced by our nationwide toilet paper shortage in 2020.
When we have something good, we want to keep it.
Creating a true health care cost nest egg may be hard-won. HSAs in particular take time to build up. So, it makes sense that the prospect of spending down what might have taken several years to amass would make employees apprehensive.
In reality, employees typically use most of their HSA, if they have one, on incremental out-of-pocket costs such as office visits and prescription drug costs each year. For FSA holders, using their funds is a requirement.
The numbers reflect both the reality of an increasing level of financial readiness for health care cost spending and the flip-side emotional impact of out-of-pocket spending.
Even when they are fully prepared, most employees feel negatively about the prospect of dipping into their funds.
Employers should understand the challenges employees face as well as how they feel about those challenges because it can affect their benefits decisions and color their benefits satisfaction. Without appropriate guidance, employees may choose higher-cost options that aren't appropriate for their needs rather than face the emotional discomfort of out-of-pocket spending. Such inappropriate choices can harm both short- and long-term financial health.
To address the marked dichotomy between people's actual level of preparedness for health care expenses and how they feel about that preparedness, employers need to consider employees' emotional state as they choose and use their benefits.
In addition to decision support, reframing benefits messaging and communications to focus on potential gains (for example, pretax savings) can help employees feel even better about their benefits—and their finances.
Want to learn more about what employees are thinking when they make their annual benefits decisions? Read the 2021 MyChoice Recommendation Engine Benefits Insights Report below.