Fitness is part of our DNA here at Businessolver; we work hard each day to send constant and consistent messages about the importance of maintaining physical health as well as overall mind/body wellness.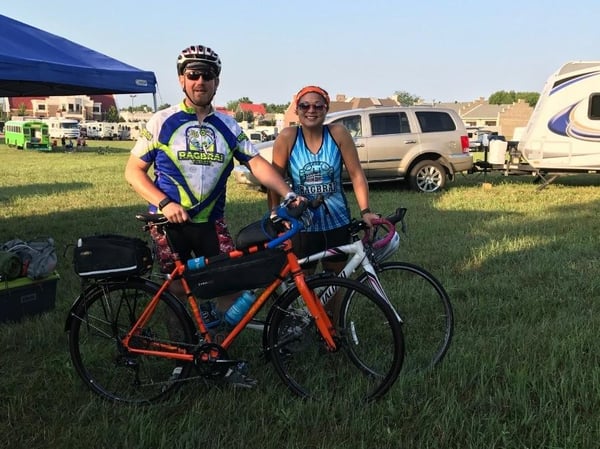 We also are devoted supporters in our local communities, and take every opportunity to give back. So, we're thrilled to have those two pillars of Businessolver culture merge again this year as a proud sponsor of the 2017 RAGBRAI (The Register's Annual Great Bicycle Ride Across Iowa), the world's largest and longest recreational bike ride.
This week, two devoted Solvers are participating in the seven-day ride across our home state and we couldn't be prouder to support them! (Follow their journey on social media with the hashtag #HeartSolver.) They are dedicating their ride to Chris Charron, a former Solver and RAGBRAI enthusiast, who tragically lost his battle with heart complications.
As part of this year's focus on heart health, we're teaming up with the American Heart Association and Hy-Vee to conduct blood-pressure screenings and heart health checks at host towns along this year's RAGBRAI route. Riders who participate receive our special #HeartSolver temporary tattoo and have a chance to win a GARMIN Edge 520 to track their heart health year-round.
We're also championing the cause this week at headquarters, hosting a bike-a-thon on our indoor gym bikes in the Fitnessolver facility. Solvers will show their support by taking a shift to bike part of RAGBRAI's approximately 470 miles in the name of Chris and the thousands of other riders out this year.
Thanks for cheering us on! And if you're looking to jumpstart a culture of wellness at your organization, here are five tips that can help.