Wow, what a week! Riders have one more day as they finish out RAGBRAI's last leg on Saturday, Iowa City to Davenport.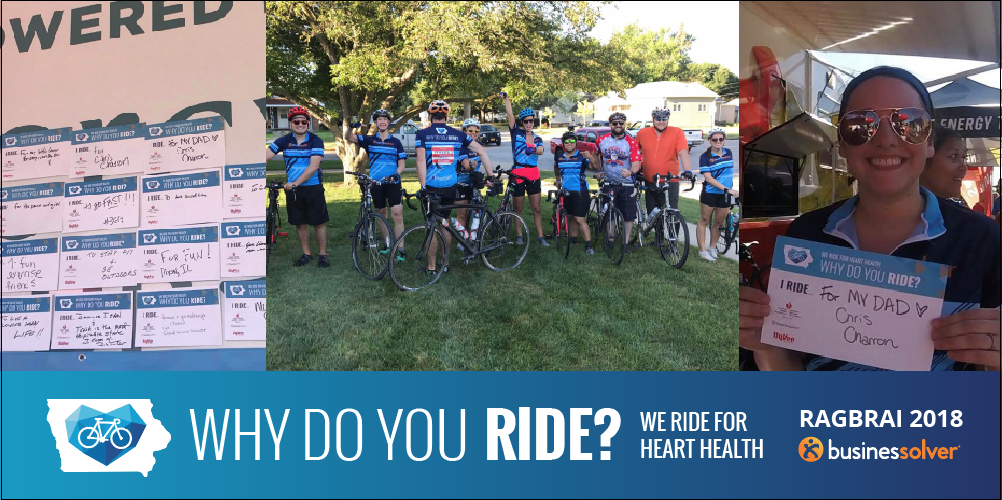 That will be a total of 428 miles, 12,576 feet of climb in the books. We're so proud of all the riders, especially our very own Tony Figueiredo! Not only did he take on the physically demanding task of biking across Iowa, but he spent his afternoons and evenings with us at our #HeartSolver booth helping spread the word about heart heath. Plus, he's been such a good sport with our current fun fundraising game, "Find Tony." Which reminds me, you have one more day to find Tony and hashtag #HeartSolver to contribute a donation from Businessolver to the American Heart Association!
Stories from the road
We met so many riders and spectators this week. I am just blown away by all the "Iowa nice" and kind "out-a-towners" I met. So many wonderful people with amazing stories about where they've come from and why they ride.
1. "I ride so that I can maintain strength in my legs after losing feeling in both of my hands due to a chronic illness."
2. "I ride so that I can visit every person on my Christmas card list. I spent almost 9 months biking from Portland, OR to Portland, ME while doing this."
3. "I ride so that I can see my granddaughters get married!"
These heart-felt stories are another affirmation as to why this heart health message is so important to share during RAGBRAI. Knowing your numbers, making healthy decisions and indulging in moderation is key to a successful RAGBRAI as well as to lead a positive and healthy lifestyle.
Our journey to heart health continues
Businessolver's heart health journey has only just begun and you can expect to see our continued support of future RAGBRAIs to come! We know we have a long road ahead of us, in terms of making big waves in the RAGBRAI community but with another successful year under our belt, we see and hear the ripples we're beginning to make. If we can prevent a heart attack during RAGBRAI, if we can change at least one person's perspective on their heart health, if we can encourage someone to drink more water and less beer AND they listen, I'd say that's more than enough for me to keep on doing this thing year after year.
Thank you for sharing your stories, for stopping by our booth to get your blood pressure checked, and to everyone who found Tony and posted a photo of him on social media; not only was it a fun "Where's Tony" game but you helped contribute to the great work of the American Heart Association (AHA)! On behalf of AHA, I'd like to share their gratitude for your advocacy and efforts to promote their mission "to build healthier lives, free of cardiovascular disease and stroke."
Great job, riders - Until next year! And don't be surprised if you see us Solvers on the bike trails post RAGBRAI. We're on a mission. 365.
We ride for Charron. We ride for Heart Health. #HeartSolver #LifeIsWhyIA #SolaRoadTrip