The Businessolver Foundation encourages our employees to give their time, talents, and dollars to non-profit organizations. We support Solvers taking time out of their workday to volunteer for organizations that meet one of our three giving pillars: mental health, STEM and career education, and diversity, equity, and Inclusion (DEI).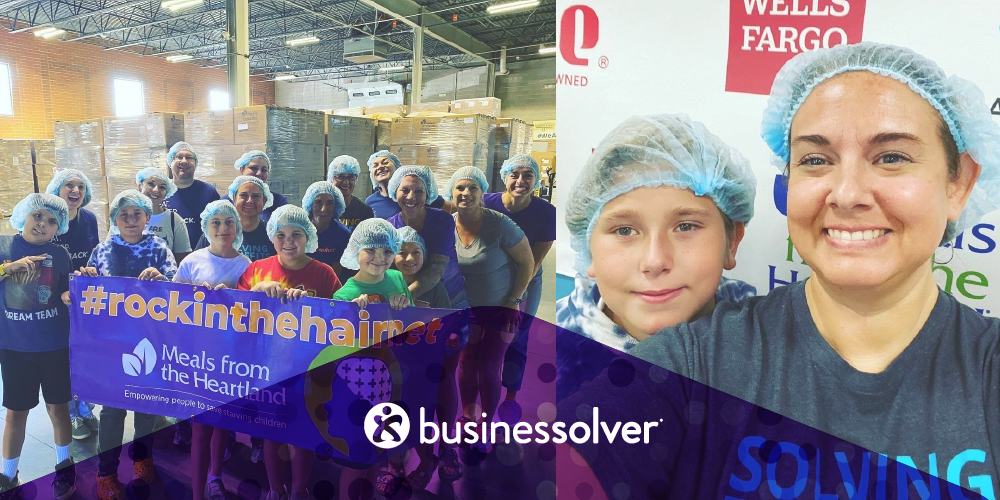 Frequently we are asked if kids can come along when their parents are volunteering. While the answer isn't always yes, we try to find opportunities to involve entire families in our volunteer efforts.
Recently a group of Iowa Solvers volunteered at Meals from the Heartland, packaging meals for hungry children. This organization allows children older than eight to accompany their parents.
According to Solver kid, Charlie Barlage (age 11), "It was fun, but it didn't really matter that it was fun for me, it matters that I was doing the right thing and getting meals to kids."
As you venture out to volunteer with your children, here are some things to think about:
1. Start small.
Sometimes people forget that simple acts of kindness around their community constitutes as volunteer work. You and your children can pick up trash around your neighborhood, visit a senior center, donate clothes, or just do something good for your neighbor.
2. Find a non-profit that allows kids to volunteer.
Not all non-profit organizations allow children to volunteer. This can be for safety, privacy, or other concerns. Always check with the non-profit you are volunteering with before bringing kids.
3. Find something your kids can get behind.
We all like to volunteer for organizations when we have a personal passion for their mission. It's no different with kids. Find something they care about, show them the behind-the-scenes story, so they can see how much they can help.
4. Instill the value of giving back to your children.
Perhaps you have heard of encouraging kids to save, spend, and give with their weekly allowance. This is a great practice that emphasizes the importance of giving back at a young age. If children become accustomed to giving back monetarily or with volunteerism at an early age, it will most likely, become common practice as they mature into adulthood.
Businessolver believes in the power of volunteering in our communities, and we love to find opportunities where we can involve our families. It brings together both of our "families" and provides a way to bond with each while doing something positive for others. See how you can volunteer with your family today!