Businessolver is a supporter of Children's Cancer Connection (CCC) and a 2016 event sponsor for Couture for a Cause. CCC is an organization making a difference in the lives of children and families living with childhood cancer. They provide support, summer camp and opportunities for kids to simply be kids and not worry about their disease.
On Saturday, April 9, the Couture for a Cause fashion show and brunch will honor and support children and families with childhood cancer. It's an opportunity for kids and families to have some fun and know that there's an entire community of support there for them. This event and organization is special to Phonsavanh Sullins, Businessolver's Employee Engagement Coordinator and her story is worth sharing.
"I joined the Children's Cancer Connection family as a camp counselor in the summer of 2007. I've spent the past 8 years with both oncology patients/survivors and their siblings making priceless memories. I've witnessed brave little human beings overcome many painful obstacles and watched them grow up and graduate and go to college. I've had the privilege to see these amazing kiddos make lifetime friendships with campers who are on a journey, just like them. It meant the world to me to join the CCC family as a staff member in 2012. The memories and friendships I have with these families are beyond words.
Providing them not only Camp Heart Connection, but also emotional support through a variety of support groups as well as recreational support through family outings are just a few ways CCC has helped over 500 families since 1988. Last September I left CCC to join the Businessolver Engagement Team. Needless to say, it was a very tough decision to make. I feel confident I made the right one.
Businessolver has blown me away with its passion and drive to support local charities and families with the Businessolver Foundation. This year Businessolver is sponsoring Couture for a Cause, a runway fundraiser event for Children's Cancer Connection. I couldn't be more proud to work for a company that supports an organization very near and dear to my heart. I am honored to be a part of the Couture for a Cause Committee. This amazing group of ladies have put on a fantastic event for the past few years, where cancer survivors and their families can dress up, strut the runway and share their stories. Last year the event raised over $30,000 for the CCC and its families. I'm very excited to see what 2016 will bring! Please join us for another exciting year!"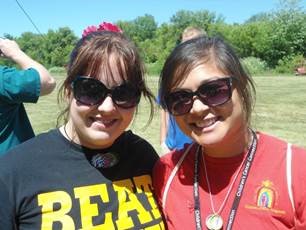 Marie Angier and Phonsavanh Sullins watching Camp Heart Connection campers go down the zip line.