For employees, it's not news that what happens at home doesn't necessarily stay at home. As long as people have had jobs, they've had to juggle work with the demands of sick children, upheavals in marriages and personal relationships, unbudgeted financial emergencies, and the stress of wondering if they'll ever be able to retire comfortably.
And things aren't getting any better. If anything, it's become even more of a multi-generational issue. For example, nearly one in three working Americans would be willing to defer their own retirements to help their children or grandchildren pay for college educations, according to a recent report from the LIMRA Secure Retirement Institute.
"Long ago, attending college morphed from a privilege into a necessity for so many," says Michael Ericson, a LIMRA analyst and author of the report. "With the average student loan approaching $30,000, people have been forced to shuffle around their financial priorities and obligations."
When an employee is focused on concerns outside of work, the result can quickly be lowered productivity and quality. Being unable to pay the bills at home is undoubtedly one of the greatest causes of stress.
"Employers recognize that financial stress can impact an employee's performance, and we are seeing more interest from employers in offering financial education to their workers to help them better manage their finances," says Jennifer Douglas, an associate research director of LIMRA, a worldwide research, learning, and development organization for the financial services industry.
It's great that more employers are finally coming to the party. More companies are helping to tear down the wall between home-life concerns and workplace performance. An increasing number of employers are realizing that the data support the notion that an employee is less stressed and more supported in other aspects of their life is also more engaged and higher performing on the job.
So the big question remains: What can employers do to meaningfully support an employee's life off the job — to support an employee's financial and emotional wellness as well as their physical wellbeing?
The first step came when benefits administrators embraced technology to make benefits selection a positive and engaging employee experience. Solutions experienced a progressive change from using simple transactional processes to leveraging consumer-driven tools that HR administrators could use to heighten employee engagement.
The next evolution needs to go a big step forward. It needs to acknowledge that for employees, what have traditionally been treated as disparate benefits are in fact closely related. Core benefits, voluntary insurance products, retirement plans, and other discrete benefits all relate to one another in the life of any employee. But the current state of benefits enrollment — driven by the territorial business strategies of the financial services and insurance industries — keeps these as disjointed benefits decisions.
HR and employees know it should be different.
During a webinar that we hosted with Employee Benefit News, 80 percent of online participants said they would prefer combined enrollment for all benefits — health, retirement, voluntary, and defined contribution plans.
Eighty-one percent of employees would meanwhile feel more comfortable if their personal assets were also included in their workplace-related financial planning, according to

Lynne Smith, head of strategy for Voya's Retail Wealth Management, speaking

during the webinar, "One Wallet: The Evolution of Decision Support to Holistic Recommendation Engine."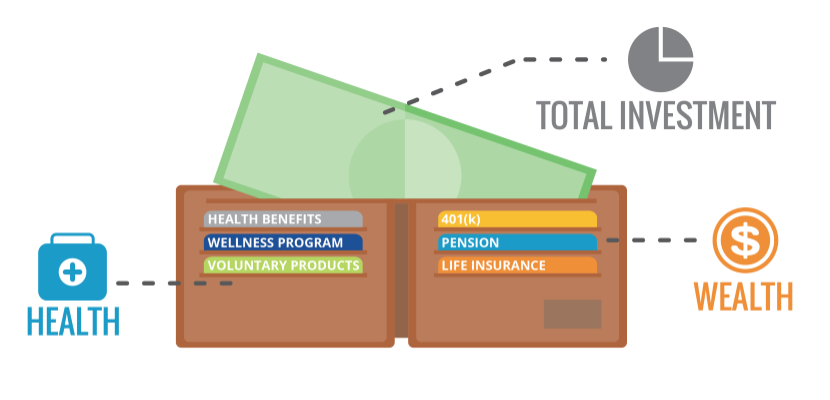 Our vice president of carrier development, Jennifer Daniel, says what's needed now are recommendation engines, not simply benefits decision support. Recommendation engines, like MyChoice, take a holistic view of the employee and their benefits package and options. They acknowledge that employees have one wallet to spend from, whether it's for workplace benefits or financial assets purchased outside of work.
"A holistic, one-wallet recommendation engine pulls in health, wellness, and financial concerns, and considers an employee's emotional state," Daniel says. "That's what's needed today."