Greetings from Las Vegas! As a first-time participant in week's HR Tech conference, I'm blown away by all there is to see and learn here at this massive event, which opened yesterday.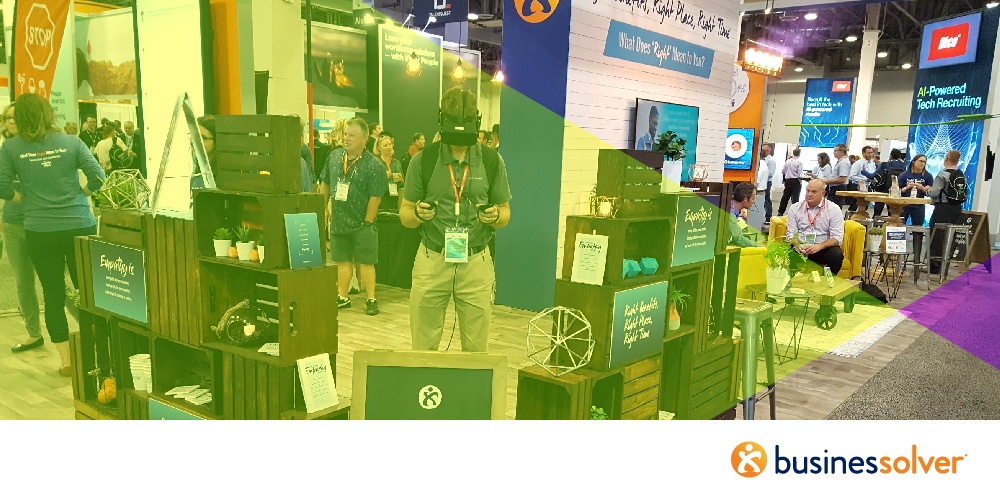 Everyone I've met is so passionate about their own little (or big) corner of the HR industry!
So far, the best place I've found to connect with people is in our booth. Located right in the heart of the Expo space, booth #2337 is the place to be if you work with benefits. The theme, "Benefits Administration Technology Designed Espressoly For You" is presented in a warm, inviting, trendy, hipster coffee shop vibe. Here's what visitors experienced as they sipped our refreshing signature drink last night, the tequila-based Sofia Paloma. (We're breaking out the espresso machine today).
Empathy Index
Launched on Monday, the Businessolver Empathy Index online assessment tool allows our visitors to measure their organization's workplace empathy. The booth features iPads that our guests use to take the assessment right then and there. Lines are short, as the tool only takes ten minutes to complete. If you can't make it to the booth this week, it's just as easy to complete on your phone or computer.
Virtual Reality Experience
This brings "walking in another's shoes" to a whole new level. Visitors put on headgear and hold controllers in each hand to guide their way through one of two scenarios designed to uncover unconscious bias in the workplace. The system even knows how often you make eye contact with the characters – just one of several measurable components of workplace empathy that are calculated into a score the participant will receive after the activity. Uncovering unconscious bias in the workplace is the first step to understanding how to increase empathy at work.
Sofia Demonstrations
Visitors can also demo our AI-powered benefits assistant, Sofia, on a giant touch screen that shows how she can answer common questions through a series of interactions with a member.
Benefitsolver Hands-on
With so many visitors expressing dissatisfaction (even frustration) with their current benefits administration solutions, we are happy to provide hands-on demonstrations of the Benefitsolver platform. Our guests can step into the shoes of someone electing a wide variety of benefits.
Giving back
For visitors who demoed the Benefitsolver software, Sofia or the virtual reality activity, we said thank you by giving back to a charity of their choice – Habitat for Humanity, Make-A-Wish Foundation, or the American Heart Association.
Stop by or get more information online
If you're here at the HR Tech conference this week, please stop by booth 2337 and have an espresso on us. (Not literally. It's hot!) If you can't make it, you can always find more information about the Empathy Index, our platform, and Sofia below.