America's Second City is our second home for the week – the Businessolver team is excited to be in Chicago for the 19th HR Technology Conference & Expo.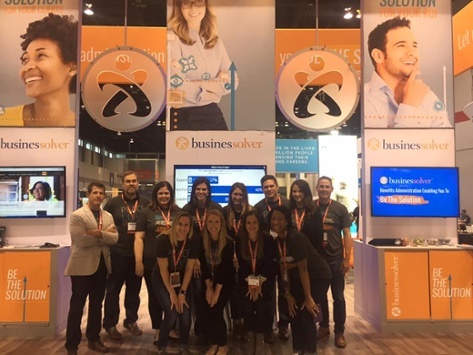 At yesterday's opening night reception, we launched our E Type Assessment Tool to help people better understand their personal level of empathy.
Dozens of attendees put their empathy skills to the test, and proved they are empathy pros: 31 percent of users achieved Expert level, indicating that they are highly empathetic. We'll keep a running tally of all E Type Assessments at HR Tech, and look forward to sharing the final results at the end of the week!
However, it wouldn't surprise me if empathy Experts dominate the remainder of the conference, just like they did on opening night. In the more than 15 years that I've worked in the benefits industry, I've learned two important things:
Chocolate and red wine are a powerful remedy for even the most stressful Annual Enrollment.
HR/benefits professionals are undeniably the heart of their organizations.
It's the latter lesson that lets me know without a doubt that HR/benefits pros are the perfect ambassadors to share and spread empathy throughout workplaces nationwide. Because no matter the challenge – financial, strategic, visionary – HR pros are always the first (and sometimes the only) ones to ask, "What about our people? What's best for our people?"
That response – the ability to look at the world from someone else's perspective – is empathy at its core. It's why so many HR Tech attendees nodded knowingly when I told them about the findings from our Workplace Empathy Monitor that show more than a third of employees (35 percent) would leave their jobs for equal pay to join a company that was more empathetic. I'm glad that we are here this week to help arm HR/benefits pros with statistics like those to make the business case for #EmpathyAtWork so they can keep the hearts of our nation's organizations strong.
Not in Chicago for HR Tech, but want to quiz your empathy skills? Take ourE Type Assessment and learn more about how to unleash the power of empathy at your organization.