Even during the hectic run-up to Annual Enrollment, HR/benefits pros were able to find calm amid the chaos with Businessolver.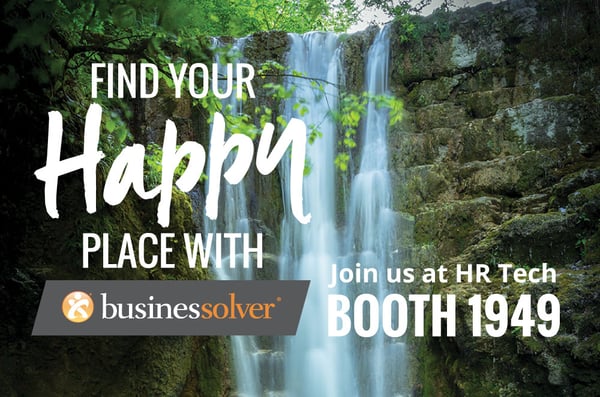 We kicked off the 2017 HR Technology Conference & Expo, inviting pros to find their #happyplace at our booth with a relaxing virtual reality meditation experience that takes them to a soothing waterfall, gently rolling river, or oceanfront beach.
To help drive conversations around how our technology could help pros relieve their stress outside of the conference, we asked attendees to tell us what stresses them most about:
Day-to-day benefits administration:
Providing employees and their families with the technology and tools they need to enroll and use their benefits successfully.

Communicating effectively with employees about benefits costs and how they can save money.

Complying with benefits laws like ACA, FMLA, etc.

Helping employees effectively transition their benefits across the employment spectrum – new hire, life events, resignation/retirement
Annual Enrollment:
Making sure employees know how to enroll and getting them to enroll fully and on time.

Transmitting enrollment, payroll, and vendor feeds accurately across systems.

Offering plans and coverage that meet employees' needs while meeting company objectives around cost control.
We'll be tallying the answers throughout the conference this week, and will share the results in a future post. In the meantime, feel free to reach out to us anytime to learn more about how our technology and service can help you "don't worry, ben happy."