Security and compliance are two critical, and distinct, pieces of HR's risk management framework. How do your policies and procedures stack up?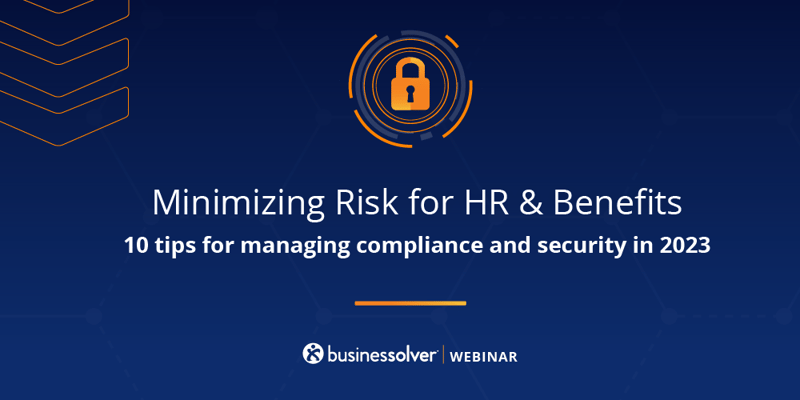 Fa-la-la-la-la.... Tis the season for HR to relax! Just kidding.
While many of us are hunkering down for the holidays, HR teams are in the thick of a Q4 frenzy: wrapping up annual enrollment, trimming their tax reporting, making their compliance lists (checking it twice), and so much more.
As HR's work snowballs into the final days of the year, it's equally important to ensure that your risk management strategy is ringing in the new year as strong as it ended. Here are a few things for HR and benefits teams to keep in mind in the final push of the year.
Avoiding the Ghost of Risk Management Yet to Come
Why is it more important today for HR to have a risk management strategy?
The move to remote and hybrid work models over the past few years added additional challenges to HR's plate. Some of the most notable include:
Managing distributed workforces and new IRS and tax complexities at the state- and local-level

Ensuring your employees have access to the right care wherever they live (from dense cities to sparse rural locations)

Transitioning into virtual-first environments
Additionally, benefits administration is swiftly moving towards a new era, powered by technology and large data lakes. All this means that HR is now responsible for much more than Total Rewards, health insurance, and company policies.
As more organizations adopt tech-enabled benefits and human capital management tools and platforms, they also assume more responsibility for managing the risk that comes along with integrating, managing, and acquiring the data needed to make it all work.
Cooking up Your Strategy from Scratch: Cybersecurity and Compliance Considerations
The most important thing to remember is that compliance and security are two separate pieces of a risk management strategy. They operate independently but also need to work together for HR to deploy a smooth risk management strategy.
While there's no "one right answer" for managing and deploying compliance and security in your HR and benefits strategy, there are several wrong ones. Here are some of the items that should sit at the top of your checklist year-over-year and will help you get a jump start on building out your own risk management strategy:
What kind of data is your organization responsible for and who has access to it?
When was the last time your tech team audited your benefits administration technology for weaknesses or security issues? Were they patched?

How are you staying up to speed on the latest compliance updates and deadlines? What's your plan for accomplishing any tasks and requirements?

Do your third-party contracts detail compliance and security expectations? Are those partners delivering on those requirements?

Do you have a "disaster recovery plan" if things go wrong? Does it include a PR partner to help you manage the external communications?
This isn't a complete list, but it's a great starting point for HR and benefits teams looking for ways to play a more active role in their benefits risk management.
Want to learn more about how compliance and cybersecurity can help HR deploy a better benefits strategy? Join me and a panel of cybersecurity and compliance experts on Tuesday, Dec. 6 for Businessolver's annual compliance webinar.