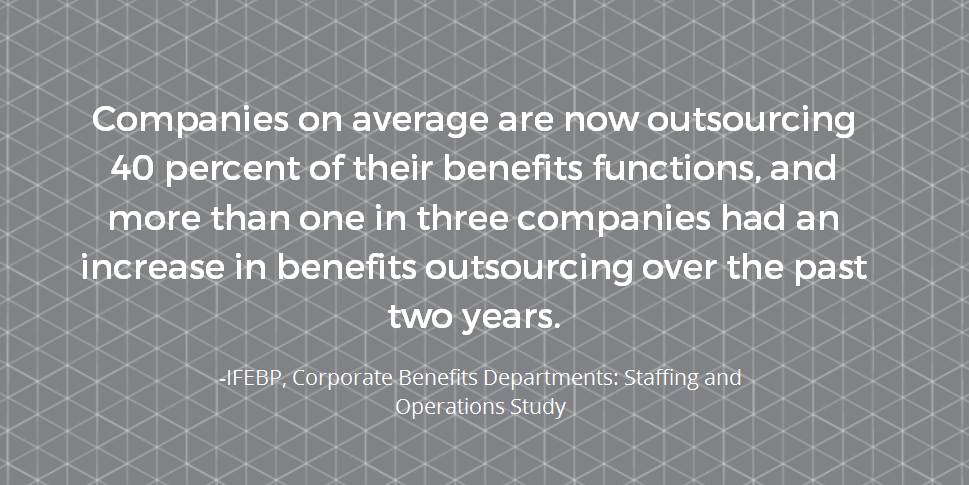 Over the past few years, an increasing number of companies have been turning to outsourcing partners for benefits administration and compliance management.
Why? Companies today want — and need — the more specialized expertise that those vendors have, particularly when it comes to complying with the Affordable Care Act (ACA) and other workplace regulations.
That's the one of the top-level findings in a trends report, Corporate Benefits Departments: Staffing and Operations, released last month by the nonprofit International Foundation of Employee Benefit Plans (IFEBP). The findings are based on the October 2015 survey responses from 343 HR and benefits professionals in U.S. companies spanning 20 industries.
According to the report, companies on average are now outsourcing 40 percent of their benefits functions, and more than one in three companies had an increase in benefits outsourcing over the past two years. While the top reason for HR outsourcing is to tap into more specialized expertise (47.8 percent of survey respondents), other drivers are access to superior benefits administration technology, lower costs, and reduced liability risk.
More specifically, when asked to name the top challenge facing their benefits departments, the top two responses by a wide margin were complying with benefits laws and regulations (72.6 percent) and dealing with rising healthcare costs (51.9 percent).
Rae Shanahan, our executive chief strategy officer, says that "This study validates what we've known for some time, and what our clients have told us time and time again — that they value us for our technology, our expertise in administration and compliance, and also in helping them control healthcare costs."
Our ACA Compliance Suite℠, for example, combines three compliance solutions with industry-leading benefits technology to deliver a single answer to the challenge of ACA compliance.
"Our ACA compliance software's flexibility lets clients choose the pieces they need to help them maintain compliance — now and into the future — knowing that we're staying on top of all of the changes, all of the ins and outs of the law," Shanahan said.
According to the IFEBP study, outsourcing is most commonly for:
Employee assistance programs (EAPs): 77 percent

Flexible spending accounts (FSAs): 69.4 percent

COBRA: 63.6 percent

Retirement benefit payments: 56.3 percent

Pharmacy benefits administration: 52.5 percent
Shanahan also agreed with the study's finding that outsourcing gives HR more time to tackle key challenges like benefits communication and wellness. One big way it does that is by reducing internal resources to manage document-heavy processes, such as leave management, or specialized functions, such as the EAP.
"Administration can be incredibly labor-intensive, even for companies with internal systems or systems built in-house but not originally designed for HR or benefits," Shanahan said.
Outsourcing HR functions such as the EAP also relieves companies of privacy concerns because they are longer handling the personal, private information of employees.