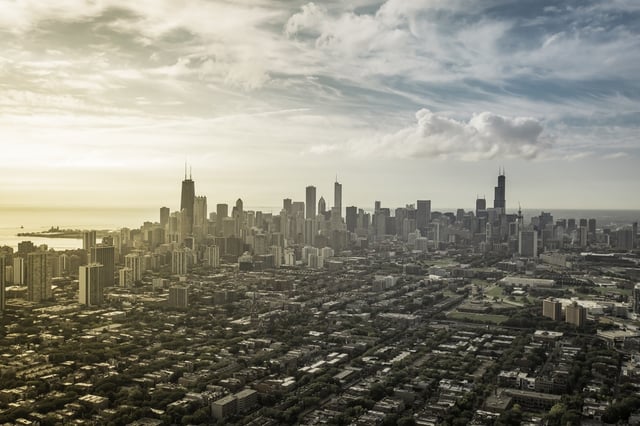 This summer was a busy one for the Businessolver team, marked by some incredible milestones. Last month, we celebrated the third anniversary of our Denver office. And there was cause to celebrate closer to home as well, when we officially opened a Chicagoland office in Itasca, Ill.
We've long hoped to establish a Chicago hub for many reasons – and not just the pizza. The city is home to many of our clients, it's an annual stop on our Vision Tour, and is the fastest-growing tech city in the U.S. (major tech players including Google and Amazon have offices there as well). Chicago is also rich in HR talent, with DePaul University ranked No. 2 in the nation for bachelor's degrees in HR. Needless to say, we've been more than a little excited to join such an innovative and energetic community.
When preparing for the move, we knew we needed to find a space that would provide our team with room to grow and thrive. We decided on a 14,000-square foot office in the northwestern suburb of Itasca, which has proximity to downtown Chicago and O'Hare International Airport, making it the perfect location for our community of remote employees to build and support Businessolver's unique culture. It also neighbors the Illinois Technology and Research Corridor, a booming region of industry and commerce along I-88 that is home to Fortune 1000 companies, colleges and universities, research and scientific institutions, medical centers and government centers.
As I reflect on Businessolver's incredible growth this year, I feel so proud. When I co-founded the organization in 1998 we had only a small, but mighty team in Des Moines. We set a goal to build our team and expand our geographic footprint, so that we could work closely with employers around the country and better fulfill our mission to delight our clients.
Thanks to the relentless hard work and dedication of our team, we've achieved those goals. Today we have offices in Des Moines, Denver, Seattle, Charlotte and now Chicago, with more to come. It's exciting to see our team and presence grow, and to know Businessolver is establishing a home in critical markets across the U.S.