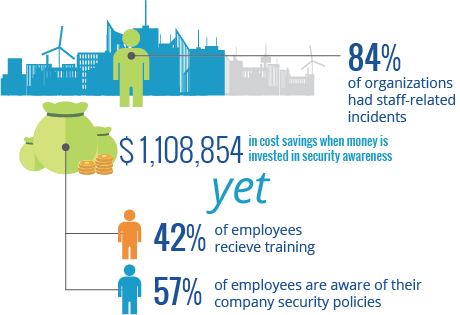 You can't afford not to invest in security awareness today. And you can't afford business partners that aren't focused on protecting your sensitive benefits data.
Everywhere you turn these days, it seems that another major retailer is highlighted in the media for a catastrophic data breach – think Target, eBay, and Michaels. But it doesn't stop with major retailers. Plenty of healthcare and major insurance organizations have faced the same fate.
Perhaps the most alarming aspect of all of these breaches is that they may have been preventable. According to a recent study, 89% of data breaches are preventable.
YOUR BIGGEST RISK

The biggest risk to your data is not the technology that stores it, but rather the humans behind it. Human error plays a role in 84% of organizational incidents related to data breaches.
AWARENESS IS KEY
A recent study finds that user security awareness alone can be attributed to an annual cost savings of $1,108,854, yet only 42% of the North American workforce claims to receive data security training. Scarier yet? Only 57% of employees say they are aware of their organization's current security policies.
THE BUCK STOPS HERE
Security awareness is undervalued – and the numbers prove it. You put a lot of trust in your benefits administration technology partner(s) to protect sensitive benefits data – information that your employees trust you to keep safe. A data breach not only impacts the bottom line, but it impacts employee trust and your brand reputation.
What is your benefits technology partner doing to protect your sensitive benefits data?
At Businessolver, we take the security of your most sensitive data seriously with:
Encrypted data at rest
Multi-factor full disk encryption on all computers
Blocked use of thumb drives to store potentially sensitive data
Frequent password resets requiring an original password
Utilization of Virtual Private Network for remote employees.
This month Businessolver is taking security awareness a step further by launching an internal Security Awareness Month. Sure, Annual National Cyber Security Awareness Month is celebrated in October, but for benefits administration technology partners, that's too late. October signals the kickoff to annual enrollment excitement. Now is the time to refresh our security awareness and focus on protecting what matters most to you and your employees – sensitive benefits data.
As part of our internal training, we:
Require every employee to go through security awareness and HIPAA training
Will deploy secure email capabilities and training on how and when to use it
Will host lunch-and-learn training activities about general security awareness and social engineering and awareness
Gamify security awareness by creating friendly competition amongst employees in the form of crossword puzzles, photo contests and other internal competitions
Is your benefits administration technology partner as obsessed with ensuring security, compliance, and the integrity of your sensitive benefits data as Businessolver is?
THE ONE THING: We worry about your data security so you don't have to.