New year, new plan details (and deductible, and spending account contributions, and premiums, and so much more) for many employer-sponsored health plans. Here's what benefit managers should consider highlighting in their employee engagement communications.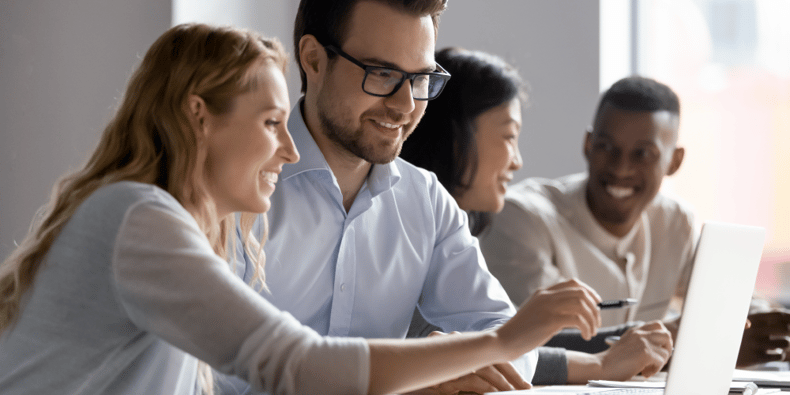 The whirlwind of annual enrollment is well behind us and many benefit managers are in the thick of a fresh plan year. How many emails, phone calls, or "quick zoom chats" have you had to handle as employees come to you with a fresh set of benefits questions?
It's no secret that benefits confusion is high—over 80% of employees report feeling confused about their benefits per our MyChoice® Recommendation Engine data. However, our data also shows us that meaningful and relevant communication can make a difference in both how employees understand their benefits and how often they engage with them to seek care.
Here are five things HR can integrate into their employee communications to cut down on benefits confusion and maximize engagement potential.
1. Deductibles reset for many plans on Jan. 1
Deductibles will probably always be a source of health care sticker shock for many employees. Pair those dollar signs with employee benefits overwhelm and we can assume that many benefits managers find themselves explaining what a deductible is, let alone why it resets, each year to their employees.
What we recommend:
Remind employees about what a deductible is: The out-of-pocket amount an employee must pay for eligible care events before the insurance will start picking up some of or all of the bill.

Omni-channel communications approaches work best, regardless of what's being communicated. Email, break room posters, text messages, and benefits portal callouts are a few examples of ways to get your message in front of employees.

If you're able to, it's always best to send messages to the platform they prefer.
2. Pre-tax spending accounts can help off-set costs
The health care sticker shock is justifiably stressful. But many employees might be forgetting about the financial benefits available to them to help alleviate some of the burden.
HSAs and FSAs are excellent vehicles to help offset health care costs year over year. Many employers are also offering additional lifestyle accounts and assistance programs, like tuition reimbursement or wellness credits, to help employees establish and maintain financial stability.
What we recommend:
Remind employees about the resources available to them to help offset the costs, such as using their HSA or FSA dollars to pay for or reimburse themselves for eligible health care expenses.

Send out a list of covered items so employees can understand just how beneficial their pre-tax consumer spending accounts are.

If you offer an employer-match for a consumer spending or lifestyle account, tell employees exactly how much you're matching, when those funds will be available, and what they need to do, if anything, to meet the requirements for the matching.
3. Where to go to fill prescriptions (and where to confirm what's covered under the plan)
A common, yet somewhat hidden, change for many plans that offer a prescription component are formulary and pharmacy network changes. For employees who take regular prescriptions, these changes could be a stressor if they're not anticipating or aware of a change until they're at checkout.
What we recommend:
If your plan made changes to what prescriptions are covered, co-pays, and pharmacy networks, make sure you explain those changes and show employees where they can go to learn more.



4. Where to go to find their plan details and information
A big source of confusion for many employees is knowing where the heck to even go for their benefits information. While we're big fans of our tech-enabled one-wallet approach with integrated support (hello, Sofia!), employees still need to know where to go to access all of the information.
What we recommend:
Send regular reminders, with links, about where benefits information lives (hint: take a page from your marketing team's handbook and integrate these details right into a standard email template—less work for you, more consistency for employees).

When you add new information about the plan or are sending out timely reminders (such as consumer spending account run-out periods), make sure you're always pointing employees back to their one source of truth.

If your organization is still in the process of adopting a tech-enabled benefits administration tool, consider building out an easy-to-access and easy-to-find interim resource, like a SharePoint or internal wiki, to house plan documents, formularies, benefit guides, and more.
5. What non-electable point solutions are available (like EAPs and telemedicine)
Holistic support is highly valued by employees, especially when it comes to how they evaluate empathy in the workplace. Total rewards and non-electable point solutions are a huge component of this, but they're often under-utilized because they're under marketed.
What we recommend:
Send out quarterly reminders about non-electable benefits, like an EAP or telemedicine, that are available to employees, regardless of what they're enrolled in.

Tell employees how to access these resources or point solutions—send them to your portal, wiki, or directly to the solution's webpage.

If there's a cost associated or if these resources are available at no cost to employees, make that information crystal clear.
Want to learn more about how you can build better benefits engagement across your organization? We're getting ready to release our annual benefit insights report with tips to bust through employee confusion. While you wait for the latest data, browse our resource library.