If we could give 2020 zero stars, we would.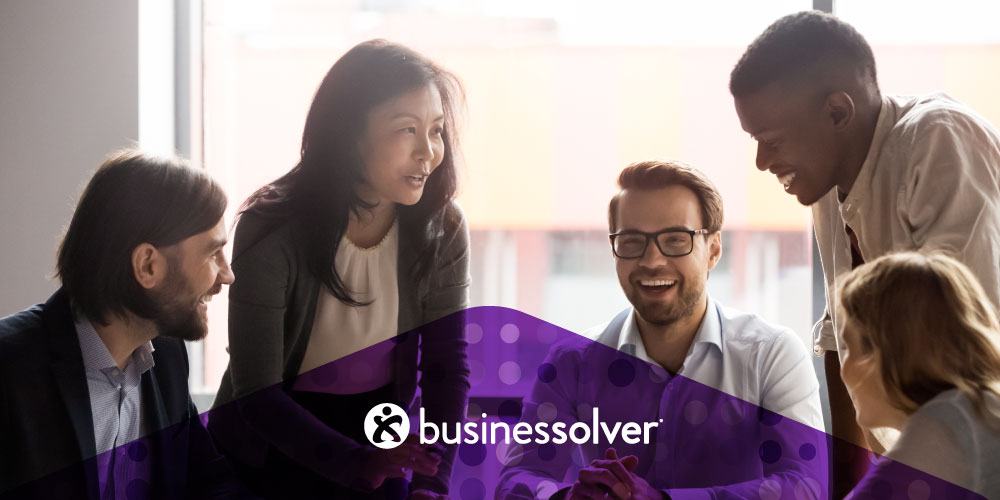 In addition to a deadly and economically debilitating pandemic, 2020 was a year of unprecedented political and social turbulence, making it a year few would want to relive. Our patience, emotions, and resilience were put to the test in every area of our daily lives. And the workplace was no exception.
Fortunately, employers realized that their employees—their greatest asset—needed help during this challenging year. And they supported them by practicing something so natural, so simple, and so readily available: Empathy.
Maximizing available resources
Apart from some very astute epidemiologists and sociologists, few predicted—or prepared for—the challenges of 2020. We all had to think quickly and make the best use of available resources.
Employers know this better than anyone.
To respond to the most pressing needs of their workforce, employers rolled out or enhanced a variety of benefits, policies, and programs. These ranged from the simplest of solutions (e.g., extending sick leave for illness related to COVID-19) to more complex—but not impossible—measures (e.g., supporting a larger or 100% remote workforce).
In some cases, it was like flipping a switch. To expand their telemedicine services to include mental health support, for example, many benefits directors simply called their broker. In other cases, HR and executive leaders tapped into the lived experiences of their employees to introduce or strengthen their diversity, equity, and inclusion programs.
In it together? You bet!
Not a moment too soon
Employers' efforts to quickly rally the resources needed to meet the wide variety of employee needs in 2020 appears to have paid off. And not a moment too soon.
According to data gathered from 2016 to 2020, workplace empathy had been on the decline in the two years prior to the pandemic, economic volatility, and social unrest of 2020. In 2018, for example, 78% of employees said their organization was empathetic. By 2020, however, that number had tumbled 10 points to 68%.
Fast forward to the 2021 State of Workplace Empathy survey fielded in February 2021. After what had been an otherwise dismal year, a silver lining had emerged. In the wake of so much turmoil, employees rated their workplaces as empathetic 10 points higher than they did the previous year.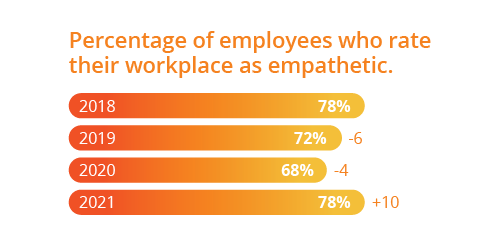 Emerging more hopeful
In many respects, individuals, communities, and organizations emerged more hopeful in 2021. On a personal level, our nation's reckoning on racial and social justice—fueled by people of all backgrounds, even internationally—helped many Americans end the year with a sense of optimism that was a long time coming.
And executives could feel confident that they had made a difference in creating a more empathetic work environment. In fact, CEOs enjoyed ratings 9 points higher (72%) than their employees were willing to give them credit for just 12 months earlier.
HR teams also had reason to celebrate. Nearly 3 in 4 employees said their HR department was empathetic in 2021, representing a 7.35% increase over the previous year.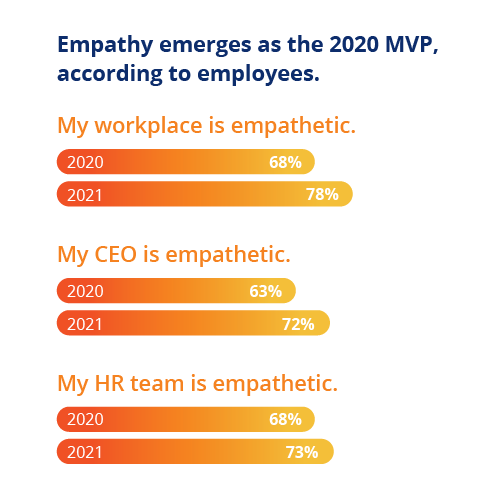 Keeping the momentum going in 2022 and beyond
Considering the weight of the opportunity that lies with today's employers, the data would suggest that empathy is the very mortar that can bind employers' efforts to help their employees and businesses recover, reconnect, and rebuild in the years ahead.
Drawing upon six years of workplace empathy studies, Businessolver recently created a new e-book called Benefits Bounce Back. In it, you will find insights and recommendations for setting a short- and long-term organizational strategy, making the case to leadership, and engaging employees to bring the strategy to life.
Organized into three sections, this e-book explores how empathetic employee benefits, policies and programs can help employers:
Recover by recognizing concerns over health and safety, and with respect to the impact of deferred care.
Reconnect remotely and in-person, and with a commitment to diversity, equity and inclusion.
Rebuild with transparency about your business while meeting the needs of an evolving workforce.
Here's an excerpt from the first chapter.
Recognize employees' health and safety concerns.
According to a Limeade survey, 77% of formerly on-site employees now working remotely said being exposed to COVID-19 was their top source of anxiety. Fielded in January and February 2021, the survey also revealed that 82% of employees said the health and safety for themselves and their family is the top source of stress when looking at the year ahead.
So, how are employers doing? Our 2021 State of Workplace Empathy data indicates there's room for improvement.
Among employees with the option to work remotely, only 86% believe their employer puts their health and safety first. Among those who must work on-site, only 76% agree. Perhaps the biggest opportunity for improvement, however, is closing the gap between employees and CEOs; by comparison, 97% of chief executives say their organization prioritizes their health and safety.
What can employers do during this important recovery stage? In addition to dialing up their communications on this topic, many employers are considering vaccination requirements. To help them think through this decision, the U.S. Equal Employment Opportunity Commission updated the vaccination section of their legal fact sheet with clarification that employers can require employees to be vaccinated for COVID-19, subject to reasonable accommodations for certain employees.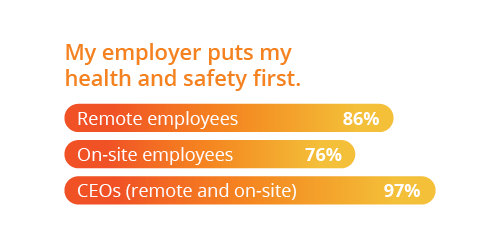 Assess and address the impact of deferred care on physical and mental health.
One of the unexpected effects of COVID-19 has been employees putting off needed health care. In some cases, it's been a deferral of care. In others, people are foregoing care entirely.
According to the Centers for Disease Control and Prevention (CDC) an estimated 41% of U.S. adults had delayed or avoided medical care by the end of June 2020. This includes urgent or emergency care (12%) and routine care (32%). Avoidance of urgent or emergency care was more prevalent among unpaid caregivers for adults, persons with underlying medical conditions, Black adults, Hispanic adults, young adults, and persons with disabilities.
This isn't good for employers' bottom lines, as experts predict that health insurance costs will increase as employees are willing and able to make up the care they deferred. More importantly, it's bad for employees' health.
And it's not just physical health. The parallel crises of the pandemic, political division and social unrest have dealt a massive blow to employees' mental health—something 94% of employees say is just as important as physical health. According to a June 2020 survey by the Centers for Disease Control and Prevention, 41% of Americans over age 18 struggle with mental health or substance abuse. Among them, 31% reported symptoms of anxiety and depression, compared to 11% the previous year.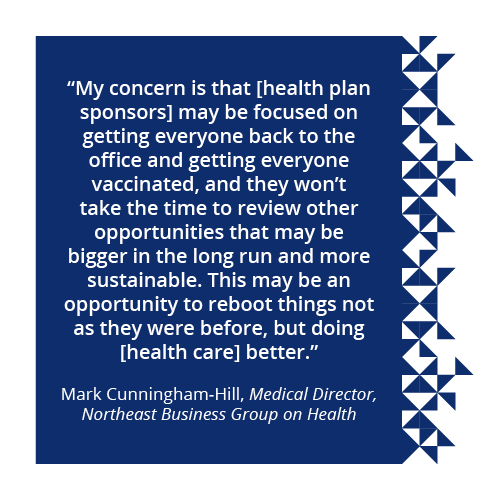 Learn More
Download Benefits Bounce Back: Using Empathy to Recover, Reconnect, and Rebuild below.