Explore critical data-driven insights about employer health care spending and the health of the workforce.
Enjoy this featured content from our Pinnacle PartnerTM Castlight Health.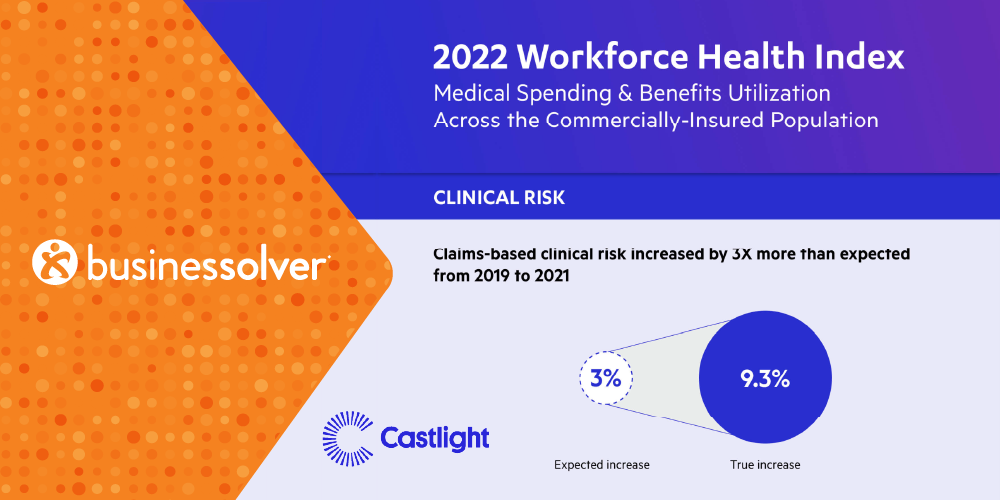 During the early months of the pandemic, millions of Americans deferred crucial health and well-being services—including care for chronic conditions and various preventive screenings—and the demand for behavioral health services increased drastically.
Castlight Health's 2022 Workforce Health Index dives into commercial medical spend from 2018 through 2021, including projections for the upcoming year for telemedicine, preventive care, behavioral health (including for teens and children), elective care, and more. Additionally, it examines how health care spend varies by income and race/ethnicity, and explores how employer investments in health and well-being programs have grown alongside workforce needs.
Castlight analyzed 160 million medical claims, employer investments in digital programs, data from digital health partners, and responses to the Castlight health risk assessment, which takes a snapshot of members' health goals, self-reported health status related to those goals, and readiness to work toward their goals. These data-driven insights can help inform employers' benefit strategies and, ultimately, build a productive, engaged, and healthy workforce.

Download the 2022 Workforce Health Index to explore critical insights about the health of the workforce.
Key findings from Castlight's report:

About Castlight Health:
Castlight is on a mission to make it as easy as humanly possible for people to navigate the health care system and live happier, healthier, more productive lives. As a leader in health care navigation, we provide a world-class digital platform with a team of clinical and benefits experts to help members easily connect and engage with the right programs and care, at the right time. Castlight partners with Fortune 500 companies and health plans to transform employee and member benefits into one comprehensive health and wellbeing experience to deliver better health outcomes and maximize returns on health care investments. Castlight Health is part of Businessolver's Pinnacle Partner Program.