Scroll through current news headline
s, and it's clear the U.S. workforce is in turmoil.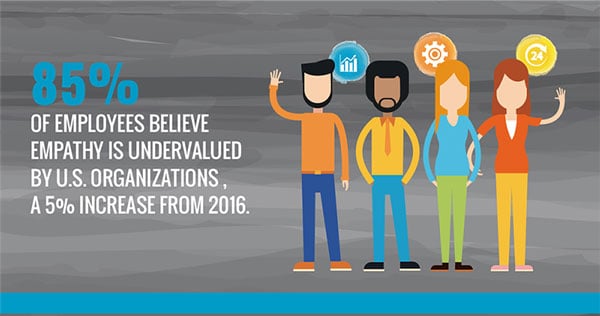 From an alarming skilled labor shortage to disturbingly low employee engagement, employers have their work cut out for them.
Adding to the bleak picture, research by Gallup shows the average American employee is not only unengaged at work, but looking to leave their current employer, with 51 percent of U.S. employees actively searching for a new job.
Lack of engagement doesn't just affect morale; it affects the bottom line, too. Research shows disengaged employees are more likely to steal from their company, negatively influence their peers, miss work, and even drive customers away. Ultimately, disengagement costs businesses some $600 billion in lost productivity.
But even all of that is no reason to sound a funeral march for the employment market. On the contrary! These statistics make it easier to embrace the one thing that will breathe new life and engagement into your employees and your company: Empathy.
Empathy isn't just a feel-good part of a successful friendship or relationship – empathy is also the cornerstone of good business and a driver of employee performance. At Businessolver, we define it as understanding employees' feelings and needs to drive a more engaged workforce and better workplace experience.
The challenge, though, is that there's a disconnect in how employers and employees define empathy, how they value it, and what behaviors they believe exemplify it. We call this the "empathy gap." Findings from our second annual Workplace Empathy Monitor (launched today, by the way!) show that closing the empathy gap can have a profound impact on employee and business well-being.
The Workplace Empathy Monitor is a study of nearly 2,000 U.S. employees, CEOs, and HR professionals that evaluates the state of empathy in the workplace. We were inspired to initiate the study in 2016 – and continue it this year – because among our team, empathy is always on our minds. We work diligently each day to offer a software platform that helps employees successfully enroll and remain engaged with their benefits. With that in mind, we've found empathic design has helped transform the benefits process from a one-time choice to a year-round experience.
Further, as our Businessolver family has grown from a small team in Des Moines to hundreds of employees across the country, we've had to rethink how we engage our workforce to meet the diverse needs of each person. Empathy has been at the core of that effort.
So, what can empathy bring to your organization?
Higher productivity: Seventy-seven percent of employees say they'd work longer hours for an empathetic employer.
Lower payroll: Sixty percent of employees say they would take a lower salary from an empathetic employer.
Better retention: This year's study reveals empathy is particularly important to Millennials, with nearly 80 percent saying they would change jobs if their current employer became less empathetic, compared to 66 percent of Baby Boomers.
Sharper recruiting strategy: Empathy is viewed as a learned behavior, however, 58 percent of people believe it also depends on hiring the right people.
New and improved performance metrics: Ninety percent of those surveyed agree that empathetic behaviors should be a part of employee performance reviews.
Download the 2017 Workplace Empathy Monitor, and join the conversation on social media with the hashtag #EmpathyAtWork.