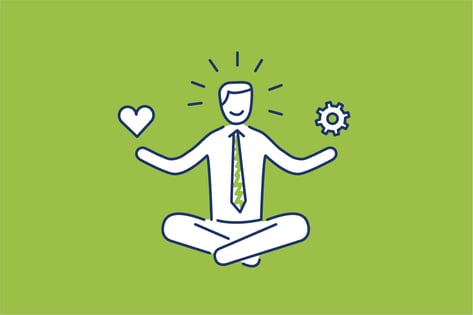 When you think of empathetic workplaces, the first industry that comes to mind is the government, right? Yeah, didn't think so.
You're not alone: 70 percent of the Americans we surveyed agree with you. Just 31 percent of respondents in our Workplace Empathy Monitor view the government as an empathetic industry – the lowest-ranking sector across the six that we examined.
This year, we launched the Workplace Empathy Monitor on a mission to drive a national conversation around the importance of empathy at work, and to draw out the unlocked rewards an empathetic workplace can have on your people and profits. What better way to take the discussion to the next level than to bring it to the industry that needs it most?
So, just like Mr. Smith went to Washington, so did we. We're happy to announce that The Washington Post has published an article that highlights the importance of empathy and includes data from the Workplace Empathy Monitor. The piece expands the empathy conversation to the paper's 1 million daily D.C.-area readers – including those on Capitol Hill in the not-so-empathetic government sector.
After a contentious election season that's left Americans increasingly divided, our country clearly needs empathy more than ever – from all of us, across all sectors. But if you're looking for a few bragging rights, here's how all six industries we studied stack up from most to least empathetic:
Hospitality (84 percent of Americans say the industry is empathetic)
Healthcare (81 percent)
Retail (55 percent)
Technology (48 percent)
Consumer Packaged Goods (46 percent)
Government (31 percent)
No matter where your industry falls on the empathy spectrum, increasing empathy at work matters: It improves employee happiness, productivity, and loyalty. It can help drive consumer loyalty as well – and by extension, greater financial rewards. Here are three ways to boost workplace empathy:
1. Listen
Among the behaviors deemed most important for demonstrating empathy is listening. Further, the Workplace Empathy Monitor finds that three of the top five behaviors directly relate to treating employees well. Statistics show that active listening makes people feel understood, cared about, and accepted. While this may seem obvious, our findings validate that employees want their employers to support their well-being and demonstrate that they have the workforce's best interests at heart.
2. Coach
Making empathy a part of your organization's culture requires a behavior change from everyone, which means empathy needs to be a part of manager and employee training. They need to understand what they can do to be more empathetic in the workplace, such as listening more than talking, being patient, and taking the time to meet with colleagues one-on-one.
3. Understand
Listening and treating employees well are key characteristics of empathy. By implementing those behaviors, leaders can better understand what their employees need and take action to meet those needs and drive engagement among their workforce. Perhaps not unsurprisingly to those of us in HR, the Workplace Empathy Monitor reveals that employees feel offering more comprehensive benefits are a way employers can demonstrate empathy. Employees want benefits that support better work-life balance and can be customized for their unique health, financial, and life-stage needs.

Learn more about empathy in the workplace at businessolver.com/empathy and join the conversation on social media with the hashtag #EmpathyAtWork.