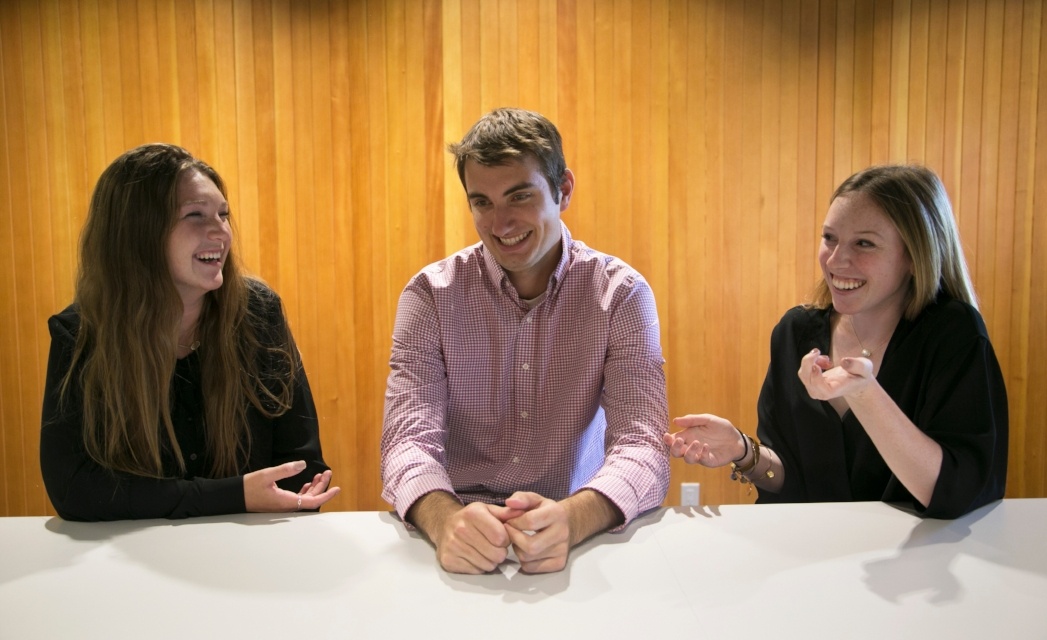 Connect with our Culture: #SolverSoul Goes Summer!
It's summertime, which at Businessolver means new interns! We're thrilled to welcome another class for the summer, and they're ready to use their fresh ideas and perspectives to help Businessolver innovate.
We'll introduce you to them in "#SolverSoul Goes Summer," a blog series to accompany our #SolverSoul video series over on Instagram. In part one of five, meet Sean, Natalie, and Abbey!
Sean Dee is a marketing major at Iowa State University; Natalie Corbett is majoring in marketing and management at the University of Iowa; Abbey Patterson is a marketing/finance major, also at University of Iowa.
Favorite part of this internship so far?
Abbey: This is my first internship and it has been an amazing opportunity to start my professional career here. The people I have met so far have been so wonderful and I can't wait to further expand that network! One solver moment I will never forget is the day of the ranch fountain.
Natalie: I love getting to know all the people around here. Everyone has been so welcoming and willing to help!
Sean: I'd have to say the free food, without a doubt. But in all seriousness, I love the freedom associated with creating and managing my own schedule and making sure I get all my work done every day. In some ways, I'm my own boss!
Tasks you've accomplished?
Natalie: The past four weeks have been full of learning opportunities! I have learned different benefit processing skills such as COBRA, dependent verification, triaging and direct billing.
Sean: I'm a fan of the more creative side to the business. I like the marketing side to Businessolver, and working on the blog has been an excellent learning experience.
Abbey: I came into the internship having a slight understanding of the benefits industry, but did not understand the full process behind it. Within my first week I learned exactly what benefits are, how the system works on both the customer and administrator sides and, most importantly, a major part of Businessolver's philosophy: customer service.
Goals for the summer?
Abbey: Some of my goals include observing and identifying best practices and traits of great leaders, understanding how strategy is developed and how individual roles support strategy, learning how my strengths play into different roles and discovering how the competitive market works and how Businessolver differentiates. I will take every opportunity to move around the organization to better understand where my strengths fit in, while also building strong relationships with experienced employees. Whether it's shadowing a call or sitting in a meeting, I will continue to take every opportunity to interact with customers live. Most importantly, I will keep asking, "Why?"
Sean: My biggest goal is to meet and network with as many people as possible, while learning and discovering new things. It's important to me to make these connections on a daily basis simply because I love meeting new people! The more people you know, the better understanding you can have of the business, which is ultimately what I hope to get out of this experience.
Natalie: One of the goals I want to accomplish this summer is getting as much exposure to the business that I can. I enjoy the constant education here at Businessolver and my main goal is to learn as much as I can the next eight weeks.
Sean: We also all have a few projects we are working on. For example, the Executive Proposal project gives us the chance to pitch an idea to the executives on how to innovate the business. I think it's really cool that we have the chance to make an impact on the company.
Closing thoughts or shout outs?
Sean: I'd like to give a shout out to Kevin Kauffman, who was our primary trainer the first few weeks. He introduced us to the industry and the company as a whole and did an excellent job!
Natalie: I'd like to give a shout out to Calla Miller for teaching me more about her role as a Participant Service Representative here at Businessolver. Shadowing her really helped me to get familiar with our system as well as learning how to communicate with members.
Abbey: Special shout out goes to Campus Relations Lead, Kim Davidson, for working so hard on the internship program and her other tasks over the last couple weeks. Kim has been extremely helpful with orientation and training, not to mention so incredibly welcoming into the program.
Meet Abbey, Natalie, and Sean up close and personal over on Instagram! Follow us @businessolver, then scroll to the top to click on our logo for this week's #SolverSoul video story. Then come back for more #SolverSoul Goes Summer over the coming weeks!