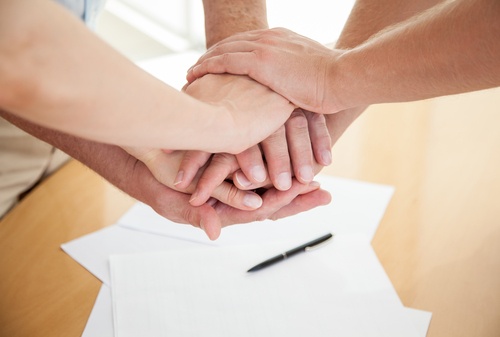 I recently read an article in The Wall Street Journal about "hugging CEOs" that noted the handshake has started to give way to less formal greetings, like hugs and pats on the back. The article ran through the pros and cons of a more intimate embrace. The biggest pro is that a warmer approach can foster greater teamwork and trust, which in turn can lead to better business results. A major con? Not everyone wants that level of familiarity, and may feel uncomfortable hugging it out with the person who signs their paychecks.

Like all good stories, this article got me thinking about the ways workplace culture is changing today. The line between work and personal life is blurring, largely due to advancements in technology that enable constant connection. The demand to "be on" all the time can take a toll, and employees are feeling it. In fact, 80 percent of U.S. workers feel regular stress on the job.

To ease the burden, employers are stepping up and offering benefits that make work easier and more desirable. But, do we have it right?

Employers often believe that benefits like free meals/snacks or nap pods can boost morale and ease the strain of high-pressure projects or deadlines. While we offer a lot of free food at Businessolver because it makes our employees' lives easier (and who doesn't love free food?!), businesses need to start thinking more broadly about their approach to workplace culture. Work perks can serve as a temporary band-aid, but to truly heal the issue of low morale and engagement, businesses must ground their workplace culture in an overarching idea.

At Businessolver, a guiding principle of our workplace culture is empathy. Empathy requires you to put yourself in another person's shoes and try to understand what their life is like. That mindset has challenged Businessolver leadership to truly think through all aspects of our employees' lives – in and out of the office.

As a result, we've implemented initiatives like our onsite Businessolver Concierge, who helps make home-life responsibilities easier for employees. We've also found that employees want opportunities to get involved and feel a part of something bigger than themselves. So, we now offer several ways for our employees to give back to the community through our Businessolver Foundation.

You may be wondering, why empathy? Empathy not only drives well-being and collaboration among leadership and employees, it can have meaningful results for a business' bottom line, too. For example, our 2016 Workplace Empathy Monitor found that employees are more likely to take – and keep – a job at an organization that they perceive to be empathetic, even if it means a lower paycheck. Consumers are also more eager to do business with an organization that they believe is empathetic. Empathy is the missing ingredient in many of today's workplaces, and something all leaders – not only "hugging CEOs" – can embrace.