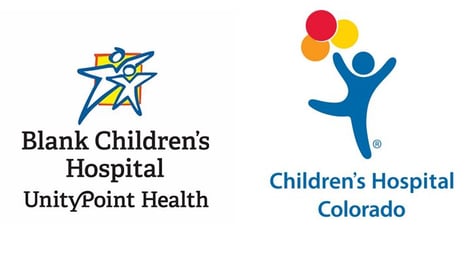 It's the time of year when the weather and leaves begin to change – and our charity of choice changes, too! Businessolver is starting off Q4 by supporting two local hospitals for this quarter's charity of choice.
Blank Children's Hospital in Des Moines and Children's Hospital Colorado in Denver are two state-of-the-art children's facilities that we are honored to support this giving season. Blank Children's Hospital and Children's Hospital Colorado embrace and deliver family-centered care and are committed to providing the best care they can for children and their families.
Blank Children's Hospital in Des Moines is a 96-bed hospital that is designed specifically for children. Their mission is to provide family-centered healing, caring, and teaching. Blank Children's Hospital has advanced technology and highly specialized doctors and nurses that provide the best care for children. Patients of Blank Children's Hospital have written their personal stories to show their appreciation for the care they have received. Grace, who suffered multiple injuries and a Level 3 traumatic brain injury in a car accident in 2010 at 7-years-old, is just one of many children whose lives were saved by the team at the Des Moines hospital. After 5 tough months, Grace was able to return home and is now reading at the same level as her peers and is continuing to receive rehab therapy at the hospital. "The care Grace received at Blank Children's was exemplary," her mother says, "because everyone had our daughter's best interest at heart." In Des Moines, our team is working to raise money, deliver craft kits and work with Blank to provide items that the hospital specifically needs for their patients.
In Denver, Children's Hospital Colorado is at the forefront of cutting edge treatments that allow children to recover more quickly. Similar to Blank Children's Hospital, Children's has created their hospital specifically with children in mind. Each detail of their Anschutz Medical Campus in Aurora was designed to help reduce recovery time for the kids. The hospital recognizes that kids' bodies are physically different than adults' bodies and must be treated as so. Children's Hospital Colorado website features stories of how grateful families are for the treatment and support they have received. Their dedicated team helped cure Samuel of a rare immune deficiency called NEMO. Samuel, who was only the 10th boy in the U.S. to be diagnosed with NEMO, had many tests at other hospitals who could not determine the type of his immune deficiency. After being transported to Children's Hospital Colorado at 5 months, Samuel's family finally received the results that he had a very severe immunodeficiency caused by a mutation of the NEMO gene. After receiving a bone marrow transplant at Children's Hospital Colorado in March of 2009, Samuel was cured of his immune deficiency. "I've visited other children's hospitals and after 'living' at Children's Hospital Colorado for weeks and months, I found there is no comparison" says Samuel's mother. In Denver, our team is raising money by donating blood and working to provide Children's Hospital with blankets that children are able to take home after their stay.