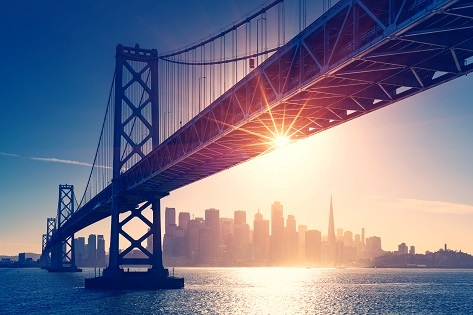 Silicon Prairie met Silicon Valley last week, as we hit the road for the first stop in our Vision 20/17 Tour. More than 100 clients and partners joined us in San Francisco for a packed two-day schedule of key product updates and announcements, as well as engaging workshops and networking opportunities.
A true highlight featured our keynote speaker, Cam Marston, an acclaimed author and speaker who is the leading expert on the impact of generational change in the workplace. His insightful address offered attendees a blueprint for how to break down generational stereotypes and work preferences to build stronger, more effective teams.
Focusing mainly on the three most populous workforce generations – Boomers, Gen Xers, and Millennials – Cam led the audience to have what he called "BFOs" (or blinding flashes of obvious) around how and why workplace conflict arises due to generational differences. Then, he shared his Gen-Flex® model for how to tap into the strengths of each generation in the workplace to prevent clashes and achieve more.
For example, Cam pointed out that generational work styles vary widely from standoffish Gen Xers ("I'll send you an email telling you everything you need to know. From there, figure it out.") to more collaborative Millennials ("We need to talk about the email you just sent and brainstorm collaboratively about how to get this done.") and more personal Boomers ("If you really cared and wanted me to succeed, you would have talked to me face to face instead of sending me this email.").
To successfully Gen-Flex, he said, managers need to follow three steps to avoid conflict:
DISCOVER – reflect, evaluate the situation, and determine the impact.
ENGAGE – discuss, offer ideas for solutions, and agree on a course of action.
IMPLEMENT – execute, evaluate, and course correct as needed.
Through it all, Cam emphasized, managers need to focus on balancing individual styles so the entire team is successful. "Your team's ability to succeed is rooted in the quality of your individual relationships with your team members. It leads to higher engagement and greater team performance."
Cam will be joining us along the rest of the Vision 20/17 Tour – and we'd love if you joined us as well. Learn more about our other Tour locations and register today!